It's only a week until J.K. Rowling's  'Harry Potter and the Cursed Child' hits shelves and we here at MP! can't stop screaming about it. Seriously, if we had a rooftop to shout from, we'd be up there shouting about it.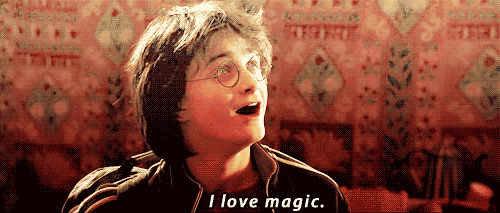 In all the madness and excitement the next seven days will bring, we've put together a list of 13 ways you can prepare for 'Cursed Child' being an actual literal, physical thing to READ.
1. Dust off your robes, get out your wand
*Pterodactyl screeches* WE'RE BACK!! And yes, we absolutely will spend the next week in full Hogwarts getup – wand and all. We're not sorry.
2. Bake some Harry Potter goodies
Whether you're making some Harry Potter buns or Golden Snitch cake pops (like these delicious ones we found on Insta) they'll definitely get you in the spirit. And taste delicious.
3. Host a Harry Potter movie marathon
19 hours of constant Potter… sounds fun and completely sane, RIGHT?! And while you're down and cosy, you might as well watch the three Harry Potter musical parodies Starkid put together.
4. If that's not your flavour…. book marathon!
The audiobooks amount to 125 hours of Potter time… totally manageable for the truly dedicated. We've at MP! have done the calculations for you and you can still listen to all seven books AND get six hours sleep a night. As long as you're listening to the books literally all of your waking time. Totally worth it.
5. Pay the Palace Theatre a visit
Just unveiled: the first stage of our theatre's transformation, lots more to come! #HarryPotterPlay #CursedChild pic.twitter.com/yW64KkMBWP

— Harry Potter Play (@HPPlayLDN) April 29, 2016
If you're London based, go sit outside the Palace Theatre and scream: "SOON!" It sounds quite cathartic.
6. Locate your round glasses
Seriously, your Harry Potter cosplay needs to be above and beyond this year.
7. Draw on your lightning bolt scar
Nobody will look at you strangely. Promise.
8. Check you've got a ride to your local shop for the midnight release
Whether you're travelling by broom, Floo powder or Thestral – just check you won't get stuck at home, watching the hours trickle down to midnight, without a copy in your hands.
9. Snacks at the ready?
Let's be real: your baking from earlier in the week? Gone. We're in for a long night ahead so make sure you've got some snacks in to keep you going as you read.
10. Remind everyone you're busy on July 31st
"Oh no sorry, we can't hang out. We're so busy doing totally important, life-changing things on Sunday. Another time?"
Life-changing things = reading 'Cursed Child'.
11. Warn your parents you want SILENCE whilst you read
"Yes mum, you really must take my annoying sibling round to gran's house."
"No dad, you absolutely cannot noisily watch the football today."
If they don't listen, feel free to cast a "Silencio" charm.
12. Mentally prepare for the continuation of Harry's story
We've been waiting SO LONG it didn't feel like we'd ever have more Potter in our lives. Are we ready for this?!
13. But really, there's only one thing you can do, and that is to just… wait.
Except… WE DID OUR WAITING! NINE YEARS OF IT! EVER SINCE DEATHLY HALLOWS! SO WE NEED CURSED CHILD RIGHT THIS SECOND!
Okay, realistically there's only seven days to go. Seven days is nothing – we can do this. Right?!
Any more tips for how to prepare? Let us know @maximumpopbooks