Little Mix's 'Hair' is a bloody great tune, isn't it? Not only has it provided us all with HOURS of entertainment (entertainment meaning the backdrop for us to scream the lyrics at the top of our lungs), but it's also given us countless wonderful GIFs and some sassy-ass hair-flipping inspo.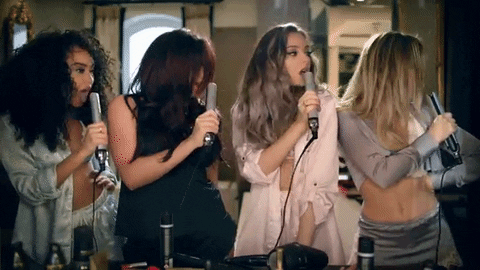 SO.MUCH.FLIPPAGE.
Given how amazing 'Hair' was/is, you'd think that it'd be Little Mix's defining hair moment, right? Seriously, how could anything else really compete with such an iconic song and video. It couldn't – surely!? At least, that's what we thought…until 2017 entered the (little) mix.
We might only be two months in, but this year has already been THE year of amazing hairstyles for the LM girls.
First up, Jesy went all fiery redhead on us and had the world OBSESSED. 
Then she went and got rid of her signature long locks, instead opting for a shorter (and equally as amazing) style.
We can all agree that Jesy is slaying HARD with her new do, and it looks like Perrie thinks so, too, because she's gone and done the same!
This weekend, Perrie posted this bad boy on her Instagram account:
Just like Jesy, Perrie's gone and ditched her signature long locks, and doesn't she look amazing?
We're not entirely sure why all of the Little Mix girls are suddenly opting for shorter, choppier looks (is it something in the water?), but we are certainly not complaining.
No matter what style they go for they'll look incredible, but for now we are totally digging the shorter, choppier 'dos. In fact, we love them so much we might go and recreate the exact same look right this second* – LATERS. 
*Upon reflection we've decided that randomly cutting our hair with no prior experience probably isn't a good idea, so here's an equally entertaining way of copying Perrie. Comment your score below and we'll compare.