One Direction has some of the best fans in the world, and they know it.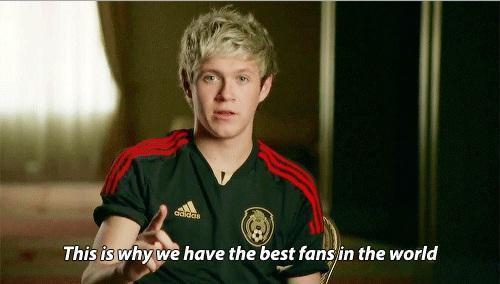 Their fans have created unbelievably successful fan projects, like Project No Control, and more recently, Project Perfect. Now, we've just found out about a little something called the Til The End Fan Project, which went about placing an ad in none other than Billboard magazine to congratulate the boys on their new album and thank them for their hard work.
It did not go unnoticed.
The ad reads, "To One Direction, congratulations on the release of Made in the A.M. We'll be here long after the lights have dimmed and the screams have subsided. An artist is nothing without fans and a fan is nothing without an artist. Thank you for being our everything. Forever, Directioners Worldwide. #TilTheEnd," and it includes graphics of four microphones filled with descriptive words for each boy.
Using GoFundMe.com, the fan project raised over $6,000 in the course of 5 months to be able to place this full-page, black and white ad in Billboard.
It's amazing what a fandom can do when it works together!