My parents and friends always used to tell me that my One Direction obsession was "just a phase" and that I was "wasting my time", but once I was able to score one of the coolest jobs ever, I showed them otherwise.
When I was 13, I scored a spot on  a relatively large One Direction update account called @1DUSAUpdate. We had about 15,000 followers when I first joined the team, but over time gained almost 75,000. We were a team of about seven people from around the world including the United States, England, and South Africa. We had insiders for every 1D show on almost all of their tours and made sure to post pictures, videos, and updates from each of their tour stops.
We were also a liaison for certain websites and brands to reach 1D fans. One of those websites was Maximum Pop!. They used tweets of ours in their articles and we promoted many of their contests. I thought the people at the site were lovely and really enjoyed all of the articles, quizzes, and listicles on their site. When I was 15, I DMed them, on a whim, and asked if they were looking for writers. To my surprise, they said yes!
My first task for Maximum Pop! was covering every single 1D show on their 'Where We Are' tour. Although I didn't attend them, I made an article after each one highlighting the top five moments of the show. I continued doing the One Direction show articles and moved on to do pop culture news articles and quizzes. About a year after I started working for MP!, I was placed on the quiz channel and started doing quizzes. I went from writer, to quiz co-ordinator, to quiz channel manager in just one year (and I was only 16 at this time).
Since then, I've been able to attend concerts, music festivals, and events in the United States for the site. I've covered multiple One Direction shows and have been able to go to the Governors Ball Music Festival and The Meadows Music and Arts Festival for MP!. Also, my quizzes have been shared on Twitter by stars like Dinah Jane from Fifth Harmony and author Rainbow Rowell!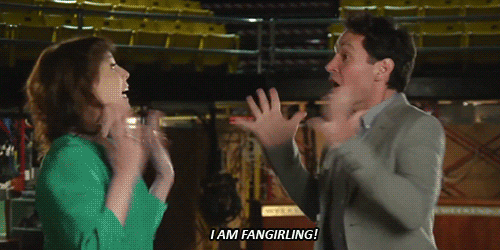 Through all the site changes and growth, the people at Maximum Pop! have been nothing but amazing. Even though I've never met any of them in person, I feel like I've made such great connections and we've worked as a team at making our site amazing. I'm now one of Maximum Pop's longest running writers and I'm so lucky to have gotten such an amazing job!
Never ever let anyone tell you supporting a celebrity is a waste of time and never let age stop you from pursuing your dreams! I hope to continue working for Maximum Pop! for a while and I'm definitely looking forward to our future as a site.