Have you ever read a book about New York, or London, or Paris, or even some fantasy land, and immediately wished you could go there? To see more than what a tourist book may suggest; to find the city that your favourite characters knew so well?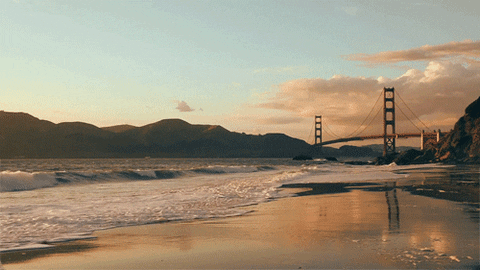 We did that with 'Night Owls'. Beatrix and Jack's story is woven through the streets of San Francisco, between secret spots in public parks to Buddhist book shops and late night buses – crammed with possibility, spotted with romance.
We were lucky enough to have Jenn Bennett tell us all about the key locations from her wonderful debut novel:
Guide to Night Owl's San Francisco
San Francisco is one of those magical places that is bigger than the sum of its parts. There are iconic things everyone identifies with the city: the Golden Gate Bridge stretching over the Bay, cable cars climbing hilly streets, and the colorful Painted Ladies houses glinting in the afternoon sun. But those are all places any tourist guide can show you. Here's San Francisco from my protagonists' world:
Inner Sunset: This is the neighborhood in which my heroine, Beatrix—better known as "Bex" in the book—lives with her mom and brother. San Francisco is a city of microclimates: it might be warm and sunny in one neighborhood, but a few blocks away, foggy and ten degrees cooler. (There's even an app for locals to see what temp it is in their district!) Bex lives in a neighborhood that is perpetually foggy in the summer. It's a quiet, residential neighborhood—and one of the only places Bex's mother can afford to live on her single salary. (San Francisco ain't cheap, folks.)
Haight-Ashbury: This is the general area in which my hero, Jack, lives. Most people associate it with the  hippie movement from the 1960s—flower-power and acid and free love. And there are still remnants of that; you'll spot headshops and bump into nouveau-hippies panhandling on the street. But the neighborhood has changed (it's now Upper Haight and Lower Haight), and much of the area that used to be the playground of tie-dye-wearing peace-sign flashers is filled with high-end boutiques and multi-million-dollar homes.
The Mission: Despite gentrification, this is still the heart of Latin culture in San Francisco. It's also known as San Francisco's version of Brooklyn, because it's super hipster-y, and there's tons of great cheap food and dive bars. Bex and Jack go on their first date at a place close to the Mission. Later in the book, Bex and her mom share a "super burrito" here, which is at a place called La Taqueria. The other great thing about the Mission district? Almost no hills! (A rarity in the city.)
Sea Cliff: Talk about exclusive. This is right smack on the Bay (China Beach), and both past and present residents have included a ton of celebrities and people so rich, you've never even heard of them. This isn't a neighborhood Bex normally spends time in; however, on Bex's birthday, her mother and older brother, Heath, take her here because there's an art museum in Lincoln Park, and Bex wants to see an exhibit called Flesh and Bone, which features a very special diagram of a heart. It's this heart diagram, in fact, that gets things moving between Bex and Jack in a very big way. So when people say they left their heart in San Francisco, Bex found hers here.
More bookish articles?