2016 has been a crazy year. We've seen celeb mishaps, make-ups, and a load of awe-inspiring music videos to stare at. After so much madness, we've been gifted with a RIDICULOUS amount of inspiration for this year's Halloween celebrations, yassss.
With that in mind, which Halloween costume do you reckon tops this year's most-pinned chart? Is it 5H's sass-tastic 'Work from Home' outfits?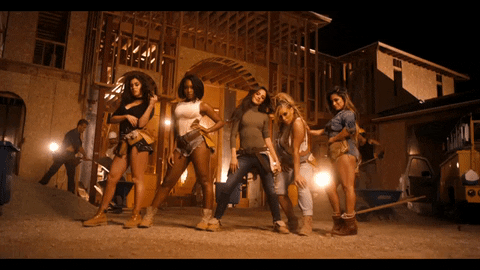 Maybe it's Ariana Grande's straight fire 'Dangerous Woman' ensemble. Perhaps we'll all be channeling our inner futuristic MET Ball Zayn and Gigi. 
While all of the above are (at least we think) INCREDIBLE ideas, they've all been pipped to the post by something altogether more magical.
According to Teen Vogue, THIS beauty is the most-pinned Halloween costume of 2016, and there's not a dodgy mummy bandage in sight:
Pretty dreamy, right?
Apparently (well, according to Teen Vogue, anyway) this look is meant to be super easy to recreate. Errrr, we're not *~entirely~* sure about that one, guys.
If you just so happen to already have rainbow hair and keep a kick-ass makeup artist and full unicorn get-up in your wardrobe, then yeah, maybe it is easy, but we can't all be winners in life.

URBAN DECAY'S LATEST PALETTE WILL HELP YOU ACHIEVE ACTUAL UNICORN-STATUS

MARGOT ROBBIE'S UNICORN DRESS GAVE US LIFE. HERE'S HOW YOU CAN GET HER LOOK AT A FRACTION OF THE PRICE
After being posted to Instagram nearly a year ago, the outfit has now been re-pinned over 105,000 times — and it's pretty obvious why. But as beaut as it is, it all looks a little bit complicated to us.
We reckon we'll stick to the blue bomber and sunglasses combo. If it's good enough for Honey G, it's good enough for us.
Will you be giving the dreamy unicorn outfit a go? Let us know by leaving a comment below.