We all mess things up. Whether it be that test we didn't really study for, the interview we were already freaked out about, or the the completely catastrophic end to your last relationship.
But, what if, by some wonderful coincidence, you got to do it over? What if you actually got to put things straight, and you made that second chance count?
Morgan Matson, author of 'Second Chance Summer', knows all about do-overs and trying again. Here's what she has to say about them:
I so love the idea of second chances. I return to this idea a lot in my books – the idea of having regrets, and having the opportunity to do something over again, knowing better this time. I love the idea of people trying again, recognizing that they fell short in some way, and giving it another shot. 
I feel like we all want those opportunities, and we all think about what we would do if we had another shot. Maybe by writing about it, I'm playing into that idea of wish fulfilment. After all, who wouldn't want a shot to do something over again?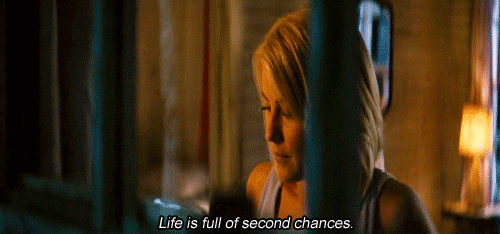 That's a big part of Second Chance Summer. Taylor, the main character, has made some huge mistakes in the past. And though it's the last thing she expected – or wanted – she finds that during this one summer, she'll get the opportunity to try and set things right.
Maybe that's why I keep writing about second chances – because I think it's something we all think about! As Taylor finds in the book, though, being presented with a second chance and actually taking a second chance are two very different things!
I'd like to think, though, that if I ever had the opportunity to do something over again, I'd take it.  I feel like actual second chances in life are so rare, you can't afford to let them slip by!