With the #Pride2016 festivities thriving during this year's Pride month, none are celebrating harder than London has been this weekend. From the cutest proposals to hundreds of pounds of glitter, here are 7 things you missed if you weren't at yesterday's London pride events.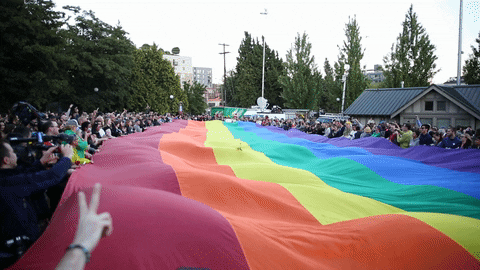 1. This policeman proposing to his boyfriend
This is the moment a police officer proposed to his boyfriend during the #Pride2016 parade in Londonhttps://t.co/bQI4zWuTeA

— Channel 4 News (@Channel4News) June 26, 2016
2. And ANOTHER adorable police proposal
He said yes too @LondonLGBTPride @MetLGBTNetwork @LGBTpoliceuk #ByYouSide #OrlandoShooting #AB #DI #CA #AC #LH pic.twitter.com/yEZvSSzRvh

— MET LGBT Network (@MetLGBTNetwork) June 25, 2016
3. This guy's beard
https://twitter.com/lilahparsons/status/747017371706134529
4. The stars of 'Absolutely Fabulous' cutting the opening ribbon
So proud to have cut the rainbow ribbon of Pride London. Love all you Eddys and Patsys. Be Proud! #Pride2016 pic.twitter.com/xf6SbhkSlm

— jennifer saunders (@ferrifrump) June 25, 2016
5. Uber's rainbow coloured cars
Happy Pride London Town. Lets celebrate inclusivity now more than ever. Loving ubers rainbow cars #Pride2016 #LGBTQ pic.twitter.com/Z3irWRnG7L

— Priya Khanchandani (@Hiyapriya) June 26, 2016
6. The incredible LGBTQ+ stylised London traffic lights
the london traffic lights for pride month i love pic.twitter.com/i941n3a9rh

— lucy (@nayasrivera) June 21, 2016
7. These insane crowds
Watching the #LondonPride main stage from the balcony of the Canadian Embassy. Beautiful view. pic.twitter.com/M3h1yHwQ1X

— Vicky Beeching (@vickybeeching) June 25, 2016
Well that was incredible. I love this city so much! #LoveWins #LondonPride pic.twitter.com/k5Zkr4JSwJ

— JDA (@the__littleman) June 25, 2016
Are you as jealous as we are that we weren't all there to celebrate? Tweet us your favourite moment @maximumpop!