Exams are scarily close and we'd be lying if we said there wasn't a tiny bit of freaking out happening every know and then (or every hour) because it just WON'T GO IN. But we know exactly how to sort you out.
We've devised a fail safe plan to get you hitting those books - the PERFECT
study tips.
(more…)
---
Y'know the bit when Dumbledore cancels exams in Harry's second year? Ofc you do. Be honest – how often have you wished that would become a reality? Every month? Every week? EVERY DAY?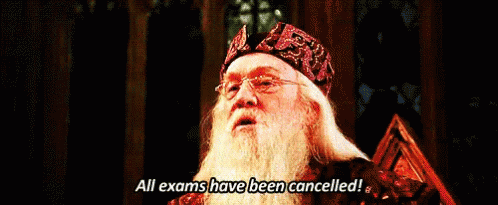 Realistically, the chances of exams *actually* being cancelled are slim to none – unless you're willing to set a humungous bloodthirsty reptile loose in your school, that is. Disclaimer: we do not advise, nor do we encourage this behaviour.
(more…)
---
If last week was a delicate hors d'oeurve, then this week is a massive fat slab of chocolate fudge cake. In short, YAAAAAAAAS! Let us explain.
(more…)
---