If I was you I'd wanna be me too!
We know that we can always hop on the M-Train if we want to feel some self-love. In fact, she really is the Kween of the Inspirational Anthem, I mean, who else could get away with a song called 'I Love Me'? And she recently told off her editors for trying to make her waist look slimmer in her new video for single 'Me Too'. Preach and teach M-Train!
Meghan Trainor has contributed two songs to the 'Snoopy and Charlie Brown: The Peanuts Movie' soundtrack: 'Better When I'm Dancin" and 'Good To Be Alive'.
When talking about her involvement in the film, Meghan was all about the inspirational stories, which made us love her even more.
"Don't ever stop dreaming even if people tell you that you'll never make it.  When I had a publishing deal and I was literally being paid to write songs, I still had people telling me, 'well, you should go to college, you should teach music because you're so good at it and that's probably all you'll get to do,' but I kept going and then finally I became really famous and everyone came back and said 'oh, we knew you'd make it!'  So you might not have everyone on your side all the time, but prove them wrong and prove to them why you're supposed to be here!"

"… when I got into my teens I became a little more insecure. You get picked on and bullied, and I would always think, 'no, I'll never be a famous pop star, I don't look like these stars do.' I stopped trying for a while, but eventually all my dreams did come true."
'All About that Bass' was THE dream and it went on to sell over 11 million copies worldwide and become one of the best-selling singles ever. We will never forget this dance.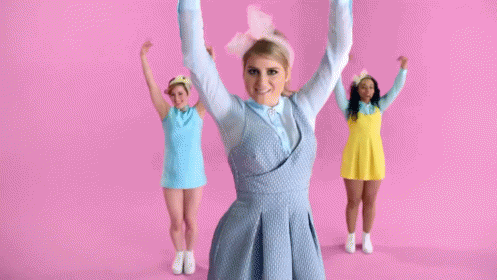 Such was the positive effect of 'All About that Bass,' it inspired a generation of girls to love themselves and appreciate being different.
"It's definitely created movement in that direction. People couldn't stop talking about it so I hope it helps girls. So far, from what I heard, it has helped girls and I've got a lot better about my appearance myself. Mothers would say 'you saved my daughter's life; your song affected her so much that she is not depressed and miserable anymore. She is happy and can smile again'.
We're just glad that such a positive role model exists in the world of pop.  Tweet us @maximumpop if M-Train inspired you to have a more positive body image. And don't forget, 'Snoopy and Charlie Brown: The Peanuts Movie' is now available to own on Digital HD™, Blu-ray™ and DVD, courtesy of Twentieth Century Fox Home Entertainment.