So lots of people have been talking about make-up over the past few weeks, and we don't just mean on Zoella's channel.
Alicia Keys received a lot of attention when she stepped onto the X-Factor stage totally bare faced. Performing her latest single 'Blended Family' without a scrap of make-up on, she looked absolutely radiant! And thankfully, the response was overwhelmingly positive, with everyone and their grandma immediately jumping on Twitter to praise her beauty and bravery.
But one step forwards and two steps back in the world of feminism. In the same week, Lindsay Lohan went on to bash three of Ariana Grande's Instagram posts, commenting simply Too Much Make-Up.
Never mind that Ariana was rehearsing for Hairspray: Live, a two hour live-streamed musical with hundreds of ridiculously hot lights shining down on her while she sings and dances and no breaks for make-up touch ups… anyhow…
As you'd imagine, there was then an all-out comment war between Arianators and Lohan fans (Lohanators?). And while we wish everyone could just get along, there was one comment aimed at Lohan that really didn't sit well with us: @lindsaylohan girl u need to put on make-up'

It is so incredibly uncool for anyone to say you should or should not be wearing make-up. It's particularly not okay for girls to be saying this to other girls. But it did get us thinking: was Lohan's heart in the right place and just aimed at the wrong target? As feminists, do we need to be calling out the make-up culture more?
Alicia Keys wrote an open letter explaining why she decided to stop wearing make-up and it makes a pretty compelling case for ditching the your Benefit reward card. "Women are brainwashed into feeling like we have to be perfect. One of the many things I was tired of was the constant judgment of women… Every time I left the house, I would be worried if I didn't put on make-up: What if someone wanted a picture?? What if they POSTED it??? These were the insecure, superficial, but honest thoughts I was thinking. And all of it, one way or another, was based too much on what other people thought of me."
And Alicia totally has a point about the brainwashing. It is a well-recorded fact that women all over the world are conditioned to chase a particular beauty standard. But for many, make-up has evolved beyond this and has become a fun, creative form of self-expression.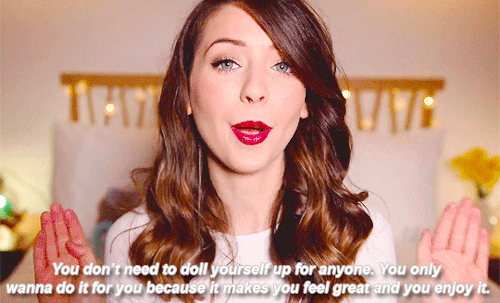 So with these two arguments is mind, can we still call ourselves feminists and wear make-up? After all, feminism does stand for the equal treatment of men and women, and we certainly don't 'expect' men to be walking around with a full face of make-up to hide their spots or blemishes.
Don't fret about your answer too much though, because we're screwed either way. Em Ford put it best in her viral video 'You Look Disgusting'.
We're damned if we do and damned if we don't. Without make-up, we're called 'gross' and 'ugly'. With make-up, we're called 'self-centred' and 'fake'. We can't win! We're all just expected to have a #IWokeUpLikeThis flawless appearance 24/7.
And it's this expectation to appear perfect all the time, with or without make-up, that we should be taking issue with.  A Daily Mirror headline a few years ago read 'Make-up free Zoella looks almost unrecognisable without her slap'. Okay firstly, slap?! And secondly, while the article commends Zoe as an 'inspiration showing other young girls you don't always need to go out looking perfect', why publish it in the first place? This is the kind of thing we need to be calling out. The portrayal of make-up, not the individuals who do or do not choose to wear it. We should be supporting each other, not tearing each other down.
So if we want to wear make-up because it makes us feel good about ourselves, we'll damn well wear make-up. If we don't and feel insecure about it, that's us battling the social conditioning we've been subjected to for years. What's important is how we feel about ourselves, both in and out of our war paint.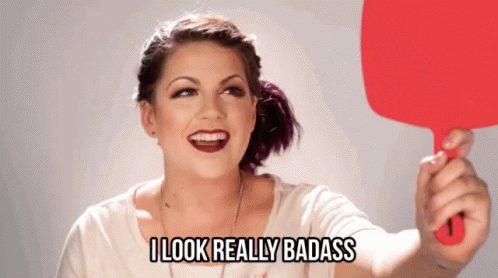 This is why it's great to see famous face like Little Mix, Fifth Harmony and most notably, Ariana Grande posting snaps both with and without make-up on the regular. Either way ladies, it's your choice. Do you, be kind and love yourself!
Do you feel pressured to wear make-up? How does that pressure make you feel? Let us know what you think in the comments below.