We don't know about you, but we don't exactly look forward to a dose of mouthwash at the end (and the start) of the day.
Minty fresh it may be, but we can't help but feel that the whole gargling thing should be exclusively reserved for trips to vineyards.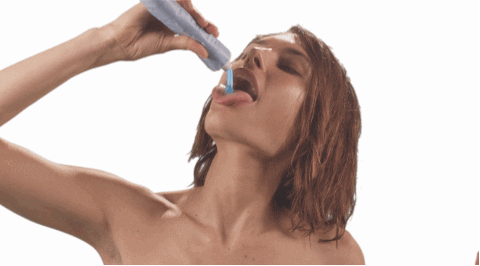 But thanks to one of our absolute favourite cosmetics retailers of all time, it looks like the days of liquid mouthwash are well and truly numbered.
When Lush sent us some samples of their brand-spanking-new solid mouthwash, it's safe to say that we were dubious.
Available in three different flavours, these little tablets of joy promised to completely rejuvenate our dental routine. According to Lush, all we needed to do was pop one in our mouths, take a sip of water, nibble and swish, for 'ultimate oral health'.
We really struggled to imagine how these tiny little tablets could provide the dental refresher they promised. But, knowing how amazing Lush's products usually are, we were more than up for trying them out.
Firstly, we tried the Crème de Menthe flavour. These tickled our taste-buds as soon as we started to nibble,  and they gave an exhilarating effervescent feeling.
We could really taste the peppermint oil in these bad-boys, and they did an excellent job of keeping our breath fresh for a good while. It's a thumbs up from us.
Secondly, we tried the rather epically titled Pan Galactic Gargle Blasters. Not only do these win on the most wonderful name, but they also win on flavour.
A combination of lemon oil and quinine worked alongside the tablets' fizzing sensation to create the taste of tonic water. We never thought it possible to incorporate our favourite tipple (that's G&T, by the way) into our bedtime routine, but the geniuses at Lush have done it. *claps*
The final flavour we tried, was Ugai.  As the name suggests, this variety has been inspired by the Japanese custom of gargling to maintain health and vitality.
Thanks to their green tea flavouring, the Ugai tablets were a big hit with the MP! team. Tea tree and sea salt gave them a fresh, antibacterial  edge.
We're not often gobsmacked, but we really were impressed by Lush's latest handmade offering. It's pretty obvious that all of their products are made with love, and their mouthwash tabs are definitely no exception to the rule.
The best thing about these babies, though, is that they are seriously travel friendly. They're light, compact, and they won't drown your brand new bikini in a pool of menthol en route to Barcelona. If that's not a win, we don't know what is.
At the moment, they are only available at Lush's Oxford Street store and online, but if other people love them as much as we do, we reckon they'll be more readily available soon.
What do you think about Lush's solid mouthwash? Genius, or just another fad? Let us know by tweeting us @maximumpop.