Lucy Sutcliffe is an absolute angel. If you haven't read her debut memoir yet, 'Girl Hearts Girl' is an emotional and touching look at Lucy's life and how she handles a long-distance relationship which is SURE to make you emotional AF, just like it did with us. Here's why people are losing their damn minds about it.
Seriously, it inspires insane acts of kindness in her fans. She's so cool – we're incredibly  jealous we couldn't catch her on her recent UK book tour – and tbh we just want to know how she does it. How did she write such an awesome book?
If you need more info on it, you should definitely check this out.
We sat down with Lucy and asked her all about her writing space, writing habits and how she gets in the capital-Z Zone. It was surprising to see what she gets up to! Here's what she had to say:
I can write anywhere as long as it's quiet. I wish I could be the kind of person who can listen to music and write at the same time, but the reality is, I get distracted by the lyrics and within minutes, I'm screaming 'All By Myself' by Celine Dion into a hairbrush at the top of my lungs. I actually make a point of dedicating at least half an hour before any writing session to dancing around my room miming to 70's & 80's classics (mainly ABBA, to be honest). Just to get it all out of my system.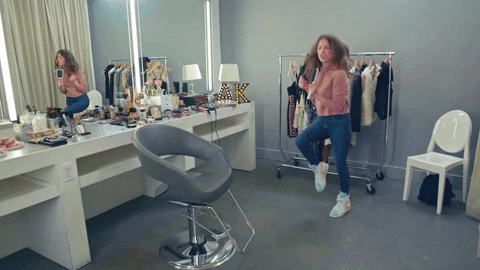 I love to write on the train. I wrote two full chapters of 'Girl Hearts Girl' on a four hour journey from Plymouth to Oxford once. The carriage was almost empty, and the only sound was the rattle of the doors opening and closing when someone got up to go to the loo. It was bliss.
In my dream world, I'd write all my books in some vast, endless garden. Wide open spaces have always inspired me, so in my head, I picture this tangled mass of trees and bushes and grass, just bursting with life. There are bees buzzing about, and afternoon sunlight dances and glitters across the surface of the lily pond and onto my face. All I can hear is the birds up above. Sigh. In my dreams.
At home, I write my best work while sat at my desk. I try to keep the area as neat and tidy as possible – it's true when they say that a tidy room equals a tidy mind. I keep distractions to a minimum, light a few candles (ambience is important) and ensure that I have enough snacks within grabbing distance to last me for at least a couple of hours (if I don't put out snacks, I'll almost certainly spend the best part of the day thinking about when it's appropriate to eat my next meal). I keep a lot of books on my desk for reference and inspiration, and I also have an obnoxiously large lamp to the right of me that I found in a local thrift store.
Other than that, I don't fill the space with much else. I like it to be empty. My cats will follow me wherever I go, so they'll usually snuggle down into my lap, or stretch out on the floor beside me. My desk is right by my window, and the sun streams in for most of the day. If it's cool enough, I'll open it up and let the breeze pour in, but it's usually too hot, so I use a desk fan to create the same effect. Arizona problems.
If sitting at my desk isn't cutting it, I'll prop my laptop up on the coffee table in the living room, and sit on the floor to write. Sometimes I'll bring a cushion or a blanket, but the trick is to not get too caught up in feeling 'comfortable'. I know for a fact that if I tried to snuggle up in bed with my pyjamas on, or cosy up on the sofa under a giant blanket, I would get absolutely NO work done. Case in point: it's taken me nearly an hour to write this, and that's solely because I'm sat in my bed, wearing a zebra onesie, surrounded by giant throw pillows. Lesson learned.
Thanks so much to Lucy for sharing what it's like for her to write! What's your writing space like? Let us know in the comments.
And don't forget you can follow Lucy Sutcliffe on Snapchat for 24/7 behind-the-scenes into her lfie. Find her username in our Snapchat Directory.