These days, there seems to be a lot of doom and gloom in the news. It's also getting cold outside and the days are shorter, which is exactly why we all need a reminder that true friendship and love exist.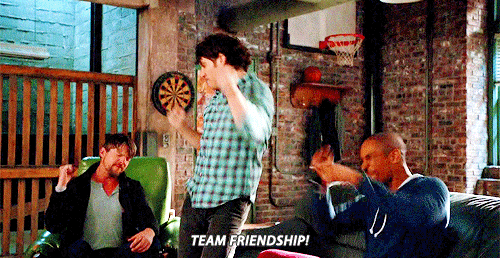 Who better to show us the meaning of true friendship than our faves, Little Mix?  Ready to feel all the feels and wish you were a member of the best girl group ever?  Look no further…
1. This magical moment where it all began…
2. …and when everyone realised it was meant to be.
Jesy says "I've just found my three best friends." Aww. Doesn't this seem like such a long time ago now?!
3. When they celebrated 'Black Magic' being number one by having a sleepover. 
4. When Jesy got engaged and Jade posted the cutest photo on her Instagram. 
5. This red carpet moment.
6. When Jade stood up for Jesy after Katie Hopkins was mean.

In an interview with 'The Huffington Post', Jade said "I just think she [Hopkins] is a really sad person… I think it's really sad that she has to try and find some kind of limelight by slating everyone else." Byeeeeee Katie. Sashay away.
7. When Perrie broke down singing 'The End' and the girls were there to support her. 
We genuinely still get so emosh watching this.
8. When they spoke absolute truth about everyone's Snapchat habits. 
Seriously, isn't this just everyone?!
9. When they drew each other. 
Let's just say they're pretty lucky they're amazing singers…
10. When they sang 'Happy Birthday' to Leigh-Anne and it was just perfect. 
She doesn't look too impressed though…
11. In this interview when Leigh-Anne pretended to be Perrie's arms.
12. When Perrie was asked how she was post-Zayn and the girls couldn't have looked happier for her. 
13. When Jade got the biggest bug we've ever seen in her hair and Perrie was there to protect her. 

Eurgh! We're super proud of Jade for dealing with this, but it's still hilarious to watch.
14. When 'Shout Out to My Ex' went straight to number 1 and Jade posted a cute photo on Instagram describing the girls as her sisters. 
Naww.
16. So many cute birthday photos.  
These girls were just meant to find each other.
17. When Jesy and Perrie went on a date to an indoor play area. 
18. This interview on BBC 'Breakfast'.
"They literally could not have picked three better girls." Fate is a beautiful thing…
19. When Jesy was too ill to perform in Japan so they performed with a cardboard cutout instead. 
20. When Jade wasn't afraid to look a bit silly to make the Mixers laugh. 
She just looks so miserable.
21. When Jesy posted this awesome photo with the cutest caption after the girls played V Festival.
22. When they were super excited about 'Shout Out to My Ex' going straight to number one. 
The cuddles though!
23. Even when they're not working, they still want to spend time together. 
24. When they were asked to describe themselves and decided to describe each other instead. 
Read the article here.
25. They're not afraid of telling the world how grateful they are for each other. 
Can we please join the band now. Kthxbai.
Are you a Mixer? Aren't they just goals af?  Let us know what you think in the comments below!