We all know now that Little Mix have 'Black Magic' don't we, it appears now that magic has allowed us to see into the future, all the way to October 25th 2015.
The lovely ladies have been crowned Best UK and Ireland Act for this year's MTV EMAs, but the ceremony isn't until October 25…
Okay so this time we don't think it's their 'Black Magic' that's made this go down, sometimes they do tend to announce winning acts before the ceremony.
Little Mix could also be entered into the running for EMA for Worldwide Act! Let's hope they win, we know they are the best in the world.
This lovely explanation is on the MTV website "This year, we've put a new twist on the international award race—your local winner goes STRAIGHT into the running for the Worldwide Act EMA!
When EMA winners are announced on 25 October during our Milan event, 6 Worldwide Act winners will emerge."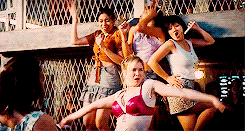 The massive pop star babes went up against pop star hunks James Bay, Calvin Harris, Sam Smith and Tinie Tempah as well as fellow pop star babe Ellie Goulding for the UK & Ireland EMA.
But it was Leigh-Anne, Perrie, Jade and Jessy who took home the gold. (Well they will on October 25th anyway.)