Not only is Lazy Oaf one of our absolute FAVE brands, but it's also popular with the likes of Lauren Jauregui, Jade Thirlwall, Zoella and Charli XCX.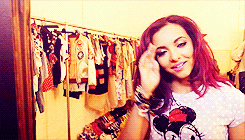 With such an awe-inspiring celeb following, it's no wonder that Lazy Oaf is getting more love than ever right now.
And just when we thought we couldn't be any more obsessed with the London brand, they've gone and released the collection to top ALL collections. Ladies and gents, meet LAZY OAF X DISNEY.
Whether you're a Disney fan or not (but to be fair, who isn't), you are going to go gooey-eyed for this collection. Not only is it jam-packed full of nostalgia, but it's also *seriously* pretty.
And as if that wasn't enough, there's also a load of gorgeous detailing to boot, so we can all look (sort of) grown-up while wearing our fave characters.
As kick-ass collections go, Lazy Oaf have nailed this one.
Mickey's making a comeback.
As is Minnie.
Can anyone else see Jade Thirlwall in this pinafore dress?! 
There's something for Cinderella fans.
Add some pieces which are purr-fect for Aristocats.
https://www.instagram.com/p/BLyK4pNjAIK/?taken-by=lazyoafs&hl=en
And devilishly delicious Cruella coats.
We've seen 101 Dalmatians ft. Peter Pan.
And finally, a motif which perfectly sums up our life motto.
With so many Disneytastic pieces to choose from, you'll be spoilt for choice. But if you do want to get your hands, claws or paws on something from the collab, you'll have to be quick, because it's bound to sell out soon!

QUIZ: WHAT DISNEY VILLAIN SHOULD YOU BE THIS HALLOWEEN BASED ON YOUR STARBUCKS ORDER?

WIN! A SIGNED POLAROID OF LITTLE MIX'S JADE THIRLWALL
Which pieces do you love most? Let us know by leaving a comment below!