While we're still wondering what Harry Styles' new thigh tattoo is we had a natter with tattooist to the stars Kevin Paul…
Kevin Paul became a celebrity favourite for his beautiful ink designs. His fans include a long list of well known faces including Rihanna, Ed Sheeran and Harry Styles, and his talents have been sought after by many TV programs.
Hey Kevin, how are you? Your tattoo designs are incredible and you've worked with some massive names in music! Do you feel a lot of pressure tattooing someone like Rihanna, one wrong slip and you've made a big oopies on RiRi?
No, I don't see celebrities as any different to non celebs – they're just normal people and I always make sure each piece of art is tattooed to the highest standard I can get it to.
Have you always been interested in tattoo art? What advice would you give young people looking to enter into the trade?
Yeah, I started tattooing at 13. I find that everyone wants to be a tattooist nowadays, they see it as a big, glamorous job but that couldn't be further from the truth. It takes a lot of dedication and a lot of hard work – I've put seven days a week into this career for nearly 20 years now, and a lot of people don't take it seriously or have the passion you need to make it successful.
Do you think the likes of Harry Styles and Ed Sheeran having so many tattoos affected the amount of teens wanting body art?
Yeah, definitely. I think it's people like David Beckham that kick started the whole tattoo vibe and people like Ed and Harry are obviously a big influence on people growing up.
Your book spills gossip on various celebs wild antics, are you worried some people are going to be mad at you for that?
No, when I was writing the book I spoke to everyone that has been mentioned. Most of them were happy with what had been put in the book, and the ones who weren't we just didn't name.
I think there is a lot about the industry that people don't know, and everyone thinks it's an amazing life to have when really it isn't.
I found it to be a very sad and lonely place with nothing ever being as it seems.
What's it like being up close and personal with Harry Styles? Did you make him cry? Did he have any strange requests?
It was a pleasure to meet Harry. He is a wonderful young lad and so grounded and down to earth. I've worked with a lot of people and I find it's the ones that haven't had much success that are usually very hard to get on with, and it was refreshing that someone as big as Harry was so humble.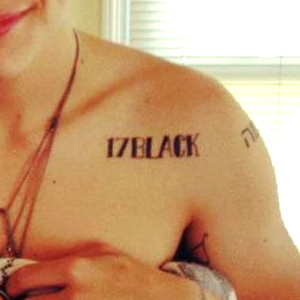 No, he didn't cry he took the tattoo well! And no strange requests, either!
You have an upcoming show on Channel 5 called 'Tattoo UK' can you tell us a bit about that and how the tattoo industry has become a little unsafe?
Yeah, my show's called 'Tattoo Disasters UK' and it's on Spike – which is a new channel owned by Channel 5. Every tattoo show that has been made in the UK has asked me to be a part of it and I've always said no, but when Channel 5 approached me, they said they wanted to make a different show that showed the best and the worst of tattooing and they wanted to film me doing my work with parliament, because at the moment regulation is just not good enough. Everyone is just buying cheap equipment off the Internet and thinking they are a tattooist. It's leaving a lot of people with really big tattoo disasters or bad scars.
Have you ever refused to tattoo something or someone?
Yes, all the time. I refuse probably 40% of things that come into the studio, I'm not a fashion tattooist, I'm a realism artist, because over the years fashions change and people then regret what they've had done. I also hate pocket watches. Every person at the minute wants a pocket watch. Haha.
Do you feel more pressure tattooing a famous face to a 'normal' client?
No, I try to see everyone as the same.
The more time I spend around celebrities, the more I realise they are just normal people with normal problems like everyone else. It doesn't really faze me at all.
If you could tattoo one person you haven't already, who would it be?
I did get contacted by Luke Goss last week and I was a really big fan of Bros in the 80s, so I suppose it would be really cool to be able to tattoo him when we meet up.
Who's been your favourite person to tat?
My favourite person has got to be Ed Sheeran. We've become good friends over the years and I have a lot of time for him as he's such a humble and grounded guy.
If you had to pick one persons face to tattoo on your bum who would it be?
I was always a big Roy Orbison fan growing up, so if I had to have anyone's face tattooed on my bum it would probably be his. He had it really hard in life and it's so touching hearing about his hardship.
Thanks Kevin! We won't ask you to tattoo a pocket watch on us just yet.
Kevin's book 'A Sketchy Life – from trouble to notoriety' is out in shops right now.