We got the chance to sit down with Kerry Drewery, author of the electric, exciting new YA 'Cell 7', and we could barely contain ourselves tbh. Fast-paced and gripping, things aren't always what they seem, and with lives literally hanging in the balance it's sure to be one seriously awesome read. This book is like nothing you've ever seen before and you need to get a copy now.
So, duh, now we guess you can see why we were so excited to throw our questions Kerry's way. Here's all the secrets and intel we managed to smuggle out of her:
'Cell 7' has an electrifying ending! did you always know which way it was going to go, or did the ending change as you wrote the book? It was always leading towards Martha in Cell 7 – but that's quite obvious! I actually ummed and erred throughout as to whether or not she should survive and then when I reached the end, what happened just felt right and felt that the characters would have behaved that way – I'm trying not to give any spoilers!
The plot becomes quite twisty and complex, which we loved, but was it hard to keep track of? The amount of characters in it, and that they all had important parts to play within the story, was tricky at times, especially because one thing happening, depended on another thing happening.
After I'd done the first draft (I prefer to get the story down first and then shape it more) I got some massive sheets of paper – one for each cell – and wrote down (colour-coded of course!) what happened within each of the characters' sections. I then stuck these up on the wall of my office so I could see it all and checked it made sense and was in the right order. I put sticky notes on things that needed moving or changing.
The concept of this kind of reality TV show feels like it should outrageous, but it also feels like it's completely possible. Do you think reality TV has gone too far? Mostly, no. But I do wonder if it affects people more than we think, and sometimes that feels wrong. I remember watching X Factor the year the 'chair round' was introduced and thinking how hard that must be for the people involved especially if they're vulnerable or have low self-confidence.
I'm not sure if you'd class televised trials as reality TV, but I did question whether or not it was right that the Oscar Pistorius trial was televised – I have mixed feelings about that.
It's like a wonderfully twisted evolution of 1984's BIG BROTHER IS WATCHING YOU. Are you a fan of any classic SF/dystopian reads? If so, tell us some of your faves! Oh, I love SF and dystopian! One of my all-time favourites is a book I read at school – 'The Chrysalids' by John Wyndham. Confession – I loved it so much that I 'forgot' to hand it back in!
It's a post-apocalyptic story about having to be 'normal' and what happens to those who aren't. The main character, David Strorm, is telepathic and has to keep it hidden. Another of my favourites is Flowers for Algernon by Daniel Keyes, which is so clever and so sad.
What's next? Are you working on anything right now? At the moment I'm writing the third book in the 'Cell 7' series – the first draft is done and I'm now writing out all the days on huge bits of paper again! The second in the series – 'Day 7' – is out next summer. After that? Well, there's an idea milling around my head at the moment, but we'll see!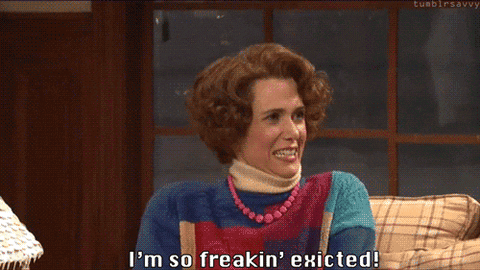 Thank you so much for Kerry for chatting to us! How do you think you would cope in Cell 7? Live or die – let us know in the comments.