Buying foundation really is like being a kid in a candy shop. A very expensive candy shop.
While we all have our faves, it's inevitable that, at some point, we'll feel the urge to venture into pastures new. There's a whole new world of foundation out there just waiting to be discovered, and there's just SO MUCH GODDAMN CHOICE.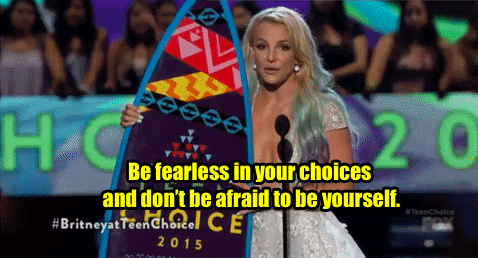 We will, Britney. We will.
And just when you thought you'd seen it all, a foundation has appeared which actually covers everything. And when we say everything, we mean EVERYTHING.
Three days ago, one Kat Von D posted this amazing fan pic on Instagram:
Seriously, how flawless is that? It's virtually impossible to find a foundation with such great coverage, so we are seriously impressed.
QUIZ: WHICH MAKEUP PALETTE SHOULD YOU GET FOR CHRISTMAS BASED ON YOUR FAVORITE 'PLL' GIRL?
QUIZ: WHICH GIRLBAND MEMBER ARE YOU BASED ON YOUR FAVOURITE MAKEUP BRAND?
Writing on Instagram, the woman in the picture, @angelina_heartless, said:
"I work in the corporate world and DO NOT know what I would do without your foundation and concealer to cover my tattoo".
The foundation in question is Kat Von D's 'Lock-It' Foundation, which can be bought from Debenhams for £27.
It might not be the cheapest foundation in the world, but with coverage like that, we think it's worth it. If it can cover up 'Wayne', it can cover up anything…