Last week we introduced you to June and Milly, two girls who give out free One Direction tickets on their Twitter page to the first person that asks for them.
Since they're doing such a good, charitable thing, we decided that it was about time more people knew about them and arranged an interview with June to find out why they do it, how they get the money and – obviously – what the flip they think of 'Drag Me Down'.
First of all we need to speak 'Drag Me Down' surely? What are your thoughts on it?
We feel like 'Drag Me Down' has a different music style than what One Direction have done in the past so it's refreshing to see them try new styles and the idea of dropping it over night was awesome.
Will you let us know exactly what it is that your site do?
On June & Milly we help fans with financial problems or severe illnesses go to One Direction concerts by giving them free tickets, we give more than two tickets for every show.
How did you first get involved with the One Direction fandom?
We have totally different stories, while Milly saw one of them fall at an awards show in 2012, I found about them while I was passing through a depressive stage in my life and unknowingly they helped me.
When was it that you decided to start giving away tickets to One Direction concerts?
I first gave away three double passes to see One Direction while they were in Australia and at that time I was just so happy on how the winners reacted and it made me feel great but I started getting busy with university so I forgot about that until I found myself with six tickets for a show and they sadly got wasted after we desperately tried to give them to someone. So Milly suggested I should make an account to give away tickets because I got access to them and then we created @1DTicketAway which later became @JuneAndMilly and honestly I couldn't do this without Milly, I'm so grateful to have her in my life and we're a team.
It's a very charitable thing to do. Do the two of you ever get the chance to go to One Direction concerts yourselves?
Thank you so much. Milly has seen them on the last three tours, while I've seen them just once but I'm going to the last concert of the On The Road Again Tour.
Where does the money for tickets come from? Is it all your own money or do people donate to the fund?
We have the fortune to have access to free tickets and we also get the support from our friends and families, we do accept donations so If any one is willing to donate, they'd be welcomed!
Do you think you'll carry on to just give away tickets to One Direction concerts or do you think you'll branch out to other acts too?
We're really busy at the moment so we're only doing the On The Road Again Tour but there's always the possibility of making this happen for other tours.
When you give away tickets, you simply give them to the first person that DMs you. What's the quickest time that somebody's DM'ed in?
People DM us literally seconds after we tweet about tickets, it's hard to put a time on it.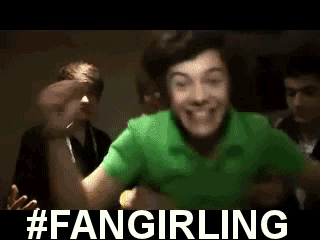 Has there been a tweet that's been missed and it's taken a long time for people to claim them?
It's been hard to find people who can get to a show if we get access to tickets at the very last minute but besides that people usually claim the tickets pretty fast, a lot of people have our notifications switched on.
What's the nicest thing anybody's done to say thank you for the tickets?
They're usually just really sweet, and keep saying thank you, but the nicest thing I'd say is when people actually send us the footage we ask for, because we feel like it shows some respect for us, and it's really nice considering we help them get the tickets.
What would be one final message to readers that want to get involved with the June & Milly project?
We appreciate all the support we get, wether it's donations, people who share our message, or just people being nice to us. If you want to get involved with us we encourage you to check our Twitter or website.
June and Milly can be found on Twitter at @JuneandMilly. Their website is www.juneandmilly.com.