If you've been looking for some light during today's horrific events you are not alone. Obama's gone and Trump's in, meaning we're all probably going to be rather miserable for the next few years.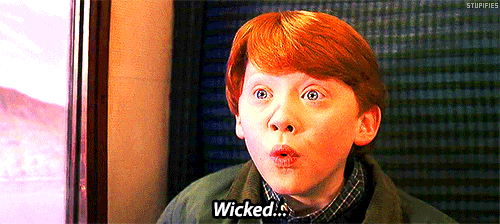 It's safe to say that world affairs are looking preeeeeetttttty dire right now, and there's only one thing which can cure things – a new Harry Potter movie, obv.
With that in mind, it's hardly surprising that rumours of a film trilogy have been flying left, right and centre, like an over-excited Snitch in a Quidditch match.
However, in a super savage move (we love ya really, JK), today our fave Hogwarts author said this:
I know a lot of people are looking for reasons to be cheerful today, but there is NO TRUTH to the rumour about a #CursedChild movie trilogy!

— J.K. Rowling (@jk_rowling) 20 January 2017
Yes, yes it is boys.
Naturally, the wonderful world of Twitterland was quick to react to JK's admission:
@jk_rowling The good news is that a beautiful 2-part live performance already exists and it is utterly wonderful :)

— Rosianna Halse Rojas (@papertimelady) 20 January 2017
@papertimelady @jk_rowling if you live in England and can afford it 😕

— Elspeth (@elspeth_____) 20 January 2017
@papertimelady @jk_rowling THE BEAUTIFUL PART BEING MOST OF THE REAL HARRY POTTER FANS WILL NEVER BE ABLE TO SEE IT!!!

— Roy Lee (@royelee4) 20 January 2017
couldn't u have waited until we had suffered through an entire day devoted to trump before telling us this damn j.k. u have no chill https://t.co/IPygcTwP7K

— bambi (@BambiShore) 20 January 2017
OUCH.
But don't get your invisibility cloak in a twist just yet, because there is hope for us die-hard Potterheads. Some people think that JK might be waiting for Daniel Radcliffe to reach the right age before making the film. We see Harry aged 37 in the Cursed Child, and DR won't have caught up until 2026, so it makes sense.
And even more good news is on the horizon, because Daniel Radcliffe hasn't ruled the role out, either.Talking to The Hollywood Reporter a few months ago, he said:
"I'm never going to close the door, that would be a stupid thing to do. […] But I think I'll be happy enough and secure enough to let someone else play it. At the moment it's not even a concern because I'm too young to play the character, but even in 10 years' time, I would still feel strange about going back to it."
He added:
 "There's a part of me that's like, some things are better left untouched […] If we went back to Potter, there's a chance we'd make what Star Wars: The Force Awakenswas to the original Star Wars, but there's also the chance that we'd make Phantom Menace. […] So I don't want to go back to anything like that and maybe sour what people have already loved."
YESSSS DANIEL.
And that's not all, because we have even more smile-inducing stuff to tell you.
HARRY POTTER SEX SCANDAL! Everybody's talking about this naughty scene you definitely missed from the 'Prisoner of Azkaban'
WHO DID THIS?! Someone's edited Harry Potter to create sexual tension between Voldemort and Harry
Listen up, muggles! This spellbinding Harry Potter lip art is the stuff of magic
According to journalist and historian Jim Hill (who appaz has all the contacts in the film departments at Universal and Disney), he's "heard that Warner Bros has actually had conversations with [Emma], with Rupert, and, of course, Daniel about Cursed Child, because they want this to be, for lack of a better term, Harry Potter: The Force Awakens."
Err, sorry what? That totally matches up with what Harry told 'The Hollywood Reporter', so we can't argue with it.
Jim added:
"They want this trilogy of movies to have the actors that we know and love from the original films, that we watched grow up, as adults. […] And, of course, they're hiring a bunch of new, younger actors to play their children with the hope that, if we can lean on JK [Rowling], maybe there'll be The Cursed Adolescent."
Well, this sounds promising. Now all we need to do is convince JK that the world NEEDS a 'Cursed Child' film…or three. That shouldn't be too hard, right? Leave a comment below and let us know if you want to see the 'Cursed Child' hit the big screen. Who knows – if we get enough support on board, we may just start a petition.