It's no secret that we LOVE J.K. Rowling here at Maximum Pop! She's talented, sassy af, and she's not afraid to stand up to Donald Trump. YASS J.K.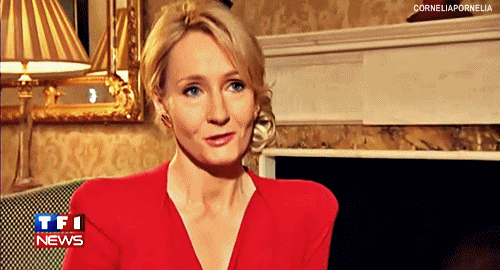 Basically, J.K. is an all-out QUEEN, so it's difficult to imagine her being scared of anything.
HOWEVER, yesterday one Twitter user asked this question:
In response, J.K. said this:
Being such an amazing speaker (if you remember her Harvard Commencement speech you'll know what we're talking about), we're super surprised to hear that public speeches are one of her greatest fears.
But while we're shocked, we're also SUPER impressed. It really goes to show that J.K. does practice what she preaches.
Aside from that, it's also pretty inspirational to see J.K. facing up to her biggest fear for the good of others.
We don't think we've ever seen J.K. come out with a speech that was anything less than mega-inspiring, truly heartfelt and (most importantly) genuine, and that's certainly something we should all admire.
HERE'S WHY THIS DAILY MAIL ARTICLE ABOUT JK ROWLING IS SO NOT OKAY
POTTERHEAD ALERT! J.K. ROWLING KNOWS WHO SHE WANTS TO PLAY YOUNG DUMBLEDORE IN FANTASTIC BEASTS
To celebrate, here's a few of our FAVE J.K. speeches to get you feeling hyped (though we should probably warn you that, as soon as you finish listening to these batboys, you'll definitely be on a mission to do something pretty special – whatever that may be).
The Harvard Commencement Speech in 2008
The Harry Potter and the Deathly Hallows Part 2 London Premiere Speech in 2011
The Pen America Speech in 2016
Amazing, right?
In the spirit of J.K. we want to know what scares you most. Is it the thought of doughnuts running out FOREVER? Is liking one of your ex's old Insta pics? Maybe, like J.K, you're terrified of speaking in front of a crowd.
Leave a comment below to let us know!