Kylie Jenner's cosmetics line can only rule the Internet for so long. Time for a good ol' competitor to enter the scene.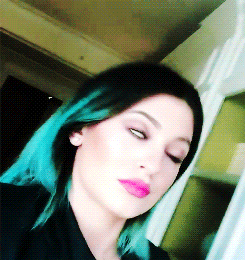 Jeffree Star, who recently ordered one of Kylie Jenner's famous lip glosses and called her out on the quality of her wands, is also a frontrunner in the celebrity cosmetics world. He has a highly anticipated eye shadow palette coming out, and his Velour Liquid Lipstick is a cult favorite.
Now, he's previewing a new shade of the Velour Liquid Lipstick, and it looks a little familiar…
"Inspired by seeing my mother wear metallic lipsticks every day in the 90's, I created a liquid lip version with my coveted velour formula," Jeffree explains on Instagram. We can't deny the shiny shade looks a heck of a lot like Kylie's 'Heir'.
Guess a little healthy competition never hurt anybody. Jeffree's version will be on sale this July.