Harriet Manners in on the scene and when our fave geek girl is about we know we're in for a treat. Holly Smale's 'Geek Girl' series is blazing one awesome feminist trail – we wish we'd always had a moral, funny, smart and kind gal like Harriet to look up to.
In between the quiet feminism, Harriet's quite good at producing little nuggets of inspirational wisdom and we've put together 11 of our very faves for you to live your life by.
1. "Nobody really metamorphoses. Cinderella is always Cinderella, just in a nicer dress. The Ugly Duckling was always a swan, just a smaller version."
Sometimes it's hard to believe but you haven't done a complete 180 and transformed into a thing of beauty – that was always you. Underneath everything you are you and only you and that's pretty damn fabulous if we do say so.
2. "Our stories are driven by who we are and what we do, and not by the events that happens to us."
Let this be a lesson to all that our lives are not driven by literal events but by who we are and what we make of things. We don't love Harriet because she's a part-time model; we love her because she's kooky and different and a little ray of sunshine who makes light of any situation.
Your story wouldn't be the same story without YOU in it.
3. "Our future selves are only as good as our past selves believe we can be."
And to this one all we can say is: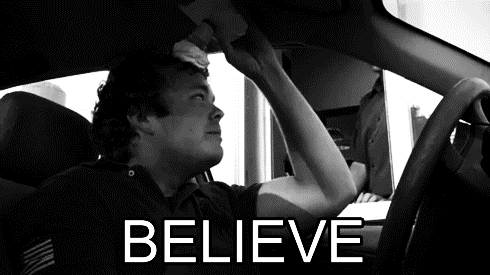 4. "There are 7,123,024,873 people in the world, and Nick keeps choosing me."
Okay, so maybe heartthrob Nick isn't choosing US (*sobs*) but the stats still count. There might be 7 billion other people on the planet but you are unique, one of a kind, and above all else, special. You rock!
5. "We each have our own language. Our own way of thinking, of talking to ourselves, of making sense of the world and putting it in order. A narration style that is ours and ours alone."
Like we just said, you're awesome for who you are and nobody else will quite match up to what makes you the incredible person that you are.
6. "Nobody hopped into a wardrobe to find Narnia; they hopped in, thinking it was just a wardrobe."
This one is very true. Just because life might feel a bit boring and mundane right now doesn't mean you're not in the very first chapters of one hella awesome adventure novel. Just keep going, you'll get to that epic ending soon.
7. " I'm going to tell Alexa that if we're the three little pigs, then it's OK because there are three of us, and we're not in a house of straw, we're in a house of brick. So she can huff and puff as much as she likes, but she can't blow us down."
Friendship is the number #1 most important thing in life, of that we're pretty sure.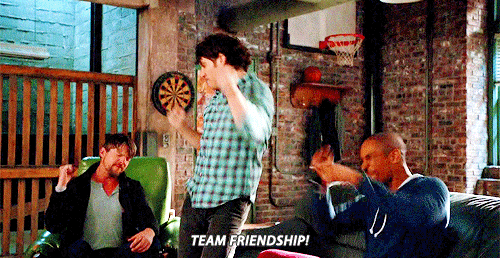 Just like Toby and Nat, your friends will always have your back when you need them most.
8. "Every day you're changing, you're growing, you're living."
Sometimes you're not going to notice the change immediately, like you don't with your hair growth, but just remember that it's happening all the time and six months from now you'll look back and realise just how much you've grown, yay!
9. "Transformation means moving forward."
Transformations aren't all about a complete makeover to make you unrecognisable, sometimes they're just about realising you can move forward in life and still rock it.
10. "Magic comes when you're not looking for it."
We've said it once and we'll say it again, just because things might not be great at the current moment in time, it doesn't mean Hagrid isn't right around the corner with your long lost Hogwarts letter.
(We wish. Ugh.)
11. "Be who you are and let everybody else be who they are. Differences are a good thing."
What Harriet Manners quote do you live your life by? Let us know @maximumpopbooks.