Sadly, in contrast to what the image above might suggest, it turns out that 16-year old Imani Williams is rather indifferent to walls, but she does give rather excellent banter.
In case Imani isn't on your radar yet (and she soon will be), you might recognise her from this carefree, summer banger released earlier this year.
See! We knew you'd know her.
This ready-made pop star currently has quite a bit on her plate. At 16 she has mastered the art of juggling a thousand billion things at once, an art usually only mastered by our mums tbh. Her pop star career is really kicking off with her debut solo single, which is produced by hitmakers Sigala and Blonde, being released last Friday.
https://www.youtube.com/watch?v=ekH2CSMaR6s
And yet she still finds time to do her GCSEs (oh joy!) and to be a normal teenager. We are a teensy bit jealous/curious about how she manages to churn our the massive tunes with so much else going on in her life…
Hi Imani! We love your new single 'Don't Need No Money' and we hope it's a mahooosive hit! You seem to be working with every producer under the sun. Do you have a secret producer magnet that you use to ensnare the best and brightest in the game?
Haha that would be legendary! I've just been really blessed to work with such talented people! It's been incredible to form a creative bond in the studio with Sigala and working with Blonde is something I've always wanted to do. I love their work and now they're on my track! It's honestly amazing!
How do you deal with industry pressure at such a young age?
It's been a different experience for me, balancing all my exams and all the music but my advice to anyone is just keep your head down and work hard. I know what it's like for people my age. There's so much going on, but it can all be done! I also have really good people around me. My management and my mum come everywhere with me , so that helps!
I'm performing at a show one day and then the next day I'm in my onesie at home with my friend, watching reality TV and eating junk food just like any other 16 year old!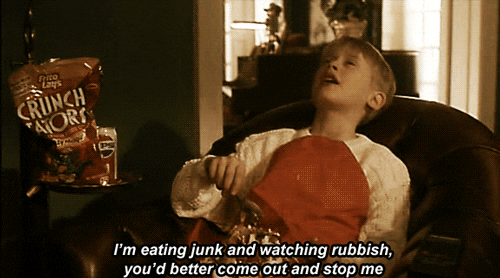 Pick five songs could you not live without.
That's the hardest question I've ever been asked !
Mariah Carey – 'We Belong Together' 
Rihanna feat. Calvin Harris – 'We Found Love'
Still a tune. A tune for all time. You can currently vote for this track in our 'Best Hits of the Decade So Far' poll btw.
You've recently been doing your GCSEs. If you had to invent one GCSE subject what would it be and why?
I don't think my age group would be very happy with me if I made up another one! We have plenty already, but if I had to it would be something to do with eating food cause I'm a massive foodie. My favourite food is Caribbean food and I'm obsessed.
That's quite a head of hair you have. What's your one essential haircare tip? And also, did anyone complain at school that they couldn't see the board because of your hair?
A good hair tip for curly hair like mine is avoid rain at all costs and humid temperatures… or you'll see a massive fro! I like to use a lot of treatments so my curls are nice and bouncy.
Haha yes you got that so right ! Everyone made me sit at the back of the class! I have a primary school class photo and my hair was in two big Pom Poms, way bigger than me! I don't know how I balanced my head!
How would you describe your fashion sense in three words?
90's, Edgy & New School. Oops that's four!!
At what point will you have your moment when you suddenly think 'I've made it in the music world'?
I'm really believe you can always improve and keep working on things. I never want to just sit back and get complacent. I might have a few days rest if I got a Grammy though…. that would just be indescribable! Mostly, I'd love to travel with my music and see people singing my songs back to me at huge shows in cities all over the world.
What would you like to have achieved by the time you're 20?
In 4 years… I'd like to have gone on a massive tour and to have released an an album or two, but mostly I'd love people to be enjoying my music !
Describe the feelings you had when 'Say You Do' became a massive hit in the UK.
I was overwhelmed! It just started off as a vibe in the studio and we were like "what shall we do today?" We just wrote about what was going on in my mind at that moment in time. Sigala and DJ Fresh are legends at production and we had so much fun making it. We were all so all amazed and so happy at how it blew up. I feel so lucky!
Would you rather be hexed by Hermione with a broken wand or Ron with a working wand?
Ron, definitely! Hermione could definitely fix her broken wand and then get me real bad!!!!! No-one messes with Hermione…
Thanks Imani. A pleasure to chat to you and good luck with the new single.
'Don't Need No Money' is out now to stream and download. You can also vote for Imani's track in this week's MP Top Ten. Tweet us @maximumpop if you're now a sworn in member of the Imani Army.