It's no secret we're addicted to getting that perfect pout but ngl sometimes we neglect our lips more than we'd like to.
We've already tried blue lipstick but what would happen if we went for slightly more normal but still fierce-as-hell bold shades? We reckon we'd rock it, but would anyone else agree?
First of all we raided our makeup bags and found five of the boldest colours we really wanted to try out. Some of these we'd bought and never worn out of the house because we were just too scared!
Well, that was about to change.
Here's what we picked out:
NYX Lingerie in shade 'Embellishment'
MUA Luxe Velvet Lip Lacquer in shade 'Kooky'
Maybelline Colour Sensational Vivid Matte Liquid Lip Colour in shade 'Rebel Red'
Maybelline Colour Sensational Lipstick Creamy Matte in shade 'Divine Wine'
NYX Soft Matte Lip Cream in shade 'San Juan'
Um, yeah, so maybe we have a little bit of a liquid lipstick addiction sshhh.
Now the only issue was deciding what colour to wear what day…
Monday
We decided to dive right in at the beginning of the week with a bright, vivid red.
We used the Maybelline liquid lip colour to achieve this look and honestly we're kind of digging it. We feel a little Taylor Swift glam tbh, even if the shade is called 'Rebel Red'.  We won't be starting any rebellions in this though unfortunately.
One of the things we forgot about wearing the blood of our enemies on our lips is how messy the application can get. There's just something about red that means you'll undoubtedly end up with a smear around your mouth. And there's nothing you can do to stop it!
When we went downstairs with bright red lips our mum did give us a bit of a once over and ask where we were going. It took a LOT of convincing for her to believe we were just getting all done up to sit in the house (and NOT going on a date), especially since red is a colour we tend to only wear on special occasions.
Tuesday
Feeling that autumnal love, for Tuesday we picked out the berry red (or rather 'Divine Wine') Maybelline lipstick. It is September after all!
Even though we were legit having a pyjama day working from our laptop at home we couldn't let this experiment down. The dark red is something we don't usually stray towards, much preferring the nude tones of summer and spring, but autumn calls!
We kinda loved this colour but we have worn it before. It felt cool to glam up for our sofa session though and give our lips a new lease of life!
Thankfully mum wasn't home. No comment.
Wednesday
It was the middle of the week and we were ready to KILL IT. It was about time we put that dark purple to the test and here's what we got.
Sorry but we're kind of in love with how vamptastic this shade is. It was a bit crumbly and left a mega lip line on the inside of our lip after a few hours of wearing it but we seriously felt like we were slaying all day.
What did mum think? Oh, she had a lot to say. We're not really surprised she was so incredulous over seeing our Wednesday lips tbh.
Who cares what she thinks though? We were FIERCE.
Thursday
On Thursday we debuted our orange NYX lip cream at the local shop and felt totally cool doing so.
We needed snacks to catch up on GBBO of course! Did we do this series' contestant Candice proud with our lippie? God, we hope so.
Mum had no comment today. She seemed to have realised we were up to something strange and didn't question our apparent new taste in neon lip colour.
Our brother, however, point blank stared at us for a minute before asking, quite simply, "Why?"
Well, why not eh?
Friday
Final day of the experiment! We saved our fave for last: the purple NYX Lingerie colour. It's more muted than the dark MUA lip lacquer but still packs a punch.
We've worn it around the house a few times but we knew we needed to up the ante and take it for a spin outside. And what better place than Nando's?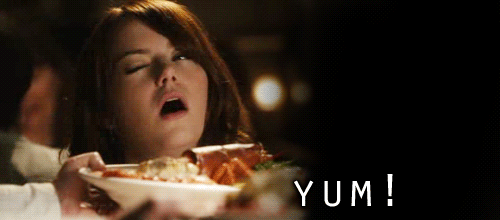 We're pretty sure we got a few funny looks but we hope the rest of the people staring at us were thinking "wow, she looks so cool". Right? Right?!?!
Mum had a lot to say about this colour too. Clearly she's not feeling our purple vibes but who cares because we totes are.
This week we've learnt not to care what other people think of our makeup – as long as we like it, that's the important thing. And yeah getting all made up to sit in the house alone seems like an unnecessary effort but it's also kinda fun.
What are your thoughts on bold lipstick? Are nudes more your thing? Chat about your fave shades with us in the comments!