Every time we think about that special place in our hearts reserved for the Spinster Club girls we get a little teary-eyed. Holly Bourne's fierce feminist trilogy is about to draw to a close with one final shebang '…And a Happy New Year'. No clue what we're talking about? Get all the deets here, stat.
To celebrate we thought we'd think back on everything Evie, Amber and Lottie have taught us about friendship and loving your girl friends over the years. Holly might have given us a few life lessons of her own to mull over, but oh boy, is this an emotional one.
1. They'll always be there for you… even if you're halfway around the world
You know you're the very best of friends when you can be there for each other, rain or shine, England or America. Just like when Amber goes jetting off to California in 'How Hard Can Love Be?', we find in comfort in knowing the best pals EVER are just a Skype call away.
2. They're on stand by to tell you when things are going a little bit haywire
When you can't think rationally and it feels like the whole world is out to get you, your girls have got your back to sit you down and slap some sense back into you (of course, not literally.)
When Lottie starts to lose her mind when the stress of being a feminist warrior takes its toll, of course Evie and Amber are right there by her side to remind her it's okay to dull the flame a little.
3. In fact, the Spinster Club girls are a constant reminder of the power of teenage girls
Tired of seeing young girls put down in media for being silly, hyperactive, boyband obsessed airheads? Us too. But Evie, Amber and Lottie are a #girlsquad of strong, fierce, independent women and we're obsessed with how tightknit their friendship is.
In every book we see them take on ginormous tasks and win both big and little victories for themselves. You go girls!
Here's how to start your own Spinster Club and get it off to a kickin' start.
4. That secrets are okay but being honest and open with your closest pals will make you feel a thousand times better
Evie struggles with her mental health for so long and it kinda tears us apart a little to see her hiding everything from Amber and Lottie, when we know they'd be SO understanding.
Totally, sometimes people have very valid reasons for not being 100% forward with everything but we've learnt that talking about your problems lessons the load so much. That's part of what friends are for.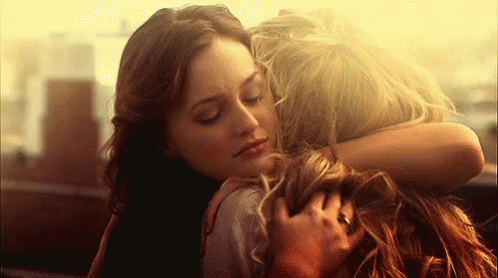 5. And, duh, of course they'll always be there with your fave cheesy snacks on hand.
Would we have it any other way?
Don't miss out on '…And A Happy New Year'. You can even come along to one of Holly's tour dates and get your copy signed!
Not sure where she'll be? Or if your friends are going so you can tag along? Don't worry – we've got your back. Check out Holly Bourne's events and signings on the new MP! Book Events minisite. You will not regret it.
What do you love most about the Spinster Club series? Share the Holly love in the comments below.