Harry Styles conquered the world with One Direction, selling shedloads of records and capturing the heart of everyone on the planet. But now it looks like he might have plans to take over the whole galaxy!
We should have realised after the 'Drag Me Down' video!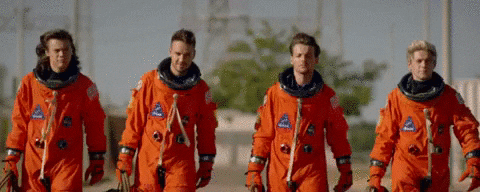 The boybander-turned-solo-superstar has already turned his hand to acting once in Christopher Nolan's 'Dunkirk', and now it looks like the opportunities will be coming in thick and fast for Mr. Styles.
According to The Sun, Disney bosses are apparently very keen for Harry to appear in one of the 'Star Wars' spin-offs, having previously considered him for the role of young Hans Solo.
"Harry was one of the early names in contention when the studio looked at Han Solo. Even though he had virtually no acting experience, they saw he had huge star potential and would give the solo project enormous publicity. On initial inquiries Harry had his music career laid out and it would have been almost impossible to lock him down for the job."
The role was eventually given to Alden Ehrenreich, but now that Harry has finished his debut solo album he might have time to sign up for a new 'Star Wars' spin-off.
---
Surely you've memorised all the lyrics to 'Sign of the Times' by now? Well, PROVE IT!
35 reactions we all had to Harry Styles' 'Sign of the Times'
---
The Sun's insider insisted that Disney are still desperate to sign Harry up to appear in the series:
"There has been talk at Disney about having him come in again for other projects they are considering. The Obi Wan stand-alone movie may not star Harry in the lead role but could see him play a smaller part. Everyone had nothing but praise for him in Dunkirk, and he and manager Jeff Azoff are carefully picking out what movie role he should take next."
Well, that's it. Colour us incredibly excited. We knew that Harry Styles' star was too big to fit this planet. We can't wait to see him bag his first solo No.1 single on Friday and then take over Hollywood.
Which role do you think Harry would be suited for in the upcoming 'Star Wars' film?