If you're a hardcore Harry Styles fan you'll remember the absolutely GLORIOUS scene in 'Night Changes' where he sets himself FREE on an ice rink.
Seriously, just imagine being the person that hand belongs to. JUST IMAGINE.
It's probably one of the most romantic things we've EVER seen, and the photos of Harry having a bit of a Bambi moment on the ice never fail to make us smile.
So what if we were to tell you that you can relive Harry's very footsteps/tumbles for reals? You'd be pretty stoked, right? 
To relive the scene IRL, all you need to do is head to the Natural History Museum – where Harry filmed the 'Night Changes' skating scenes in 2014.
Unfortunately, we can't promise that Harry will be there himself, but we can all pretend that we're in the video with him, right?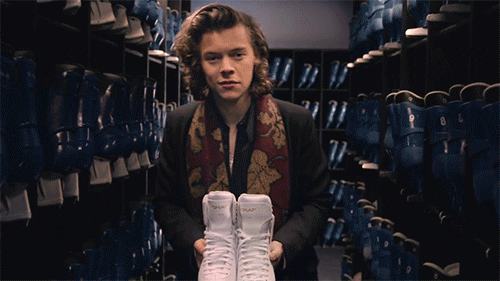 So pop on a pair of skates, and let your imagination run free. Who knows – you might even bump into Harry on your travels (quite literally, if you're as bad as skating as we are).
The Natural History Museum's ice rink will be open until January 8. To buy tickets in advance, click here.