'Pretty Little Liars' is back tonight, which means that after years of theorising, stretching the imagination in every which way possible and playing all the As' cruel games along with the Liars, we are finally on the home stretch. Who's got their 'PLL' face ready?
Who's got their @PLLTVSeries face ready? pic.twitter.com/aPayDQ2ey5

— Maximum Pop! (@maximumpop) 15 April 2017
We're really hoping for a good solid ending which wraps up all most of the loose ends on the show (we can't expect a miracle, can we?) And to be honest it does give us hope that Janel Parrish, who plays Mona Vanderwaal on the show, did recently confirm to E! News that someone has already guessed right:
"I've read some [fan theories] that are spot on. I'm not going to say what they are, because it obviously is correct, but our fans are awesome detectives."
We literally can't wait to see how this one turns out so, to celebrate the return of the show which introduced us to smartphone horror, we are mish-mashing it with current Netflix phenomenon '13 Reasons Why' for some crossover madness.
---
Can you believe no-one has ever noticed that Lucy Hale looks exactly like Selena Gomez!?
Here's everything we know about 'Pretty Little Liars' season 7B
---
Pretty Little Liar Hanna Marin is one of the sassiest, most kick-ass characters to ever grace our screens.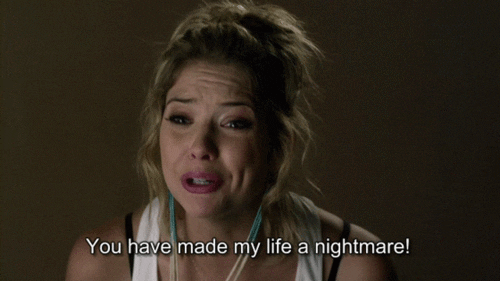 And, despite her tragic story, '13 Reasons Why's' Hannah Baker is loveable, kind and warm and we adore her.
You wouldn't think it to look at them, but it turns out that both Hanna/hs are actually quite similar. Don't believe us? Take this quiz and see if you can tell the difference between Hanna Marin and Hannah Baker.