MP! has been all over shiny new pop sensation Hanna & Andrea ever since they announced the release of their debut single 'Always on My Mind' at the beginning of May.  If you didn't catch our 'Introducing' article the first time round you can have a quick read here.
We managed to track the girls down to get the lowdown on the world according to Hanna & Andrea:
For those who haven't heard it yet, can you describe your debut single 'Always on My Mind' to us in 140 characters.
'Always On My Mind' is about taking one another for granted and afterwards realizing what you actually had. It will always be on your mind!
We would LOVE to know who was on your minds when you wrote the song?
We didn't actually write the song, however when we recorded it we thought of how we would feel in a situation like that.
Do you not worry that Elvis will come back to life and tell you off for stealing his song title?
Oh yeah, we are super worried about that 😉. We think we're good though because it's not the same type of music.
Very true. But we wouldn't mind seeing you do this move. Could be entertaining. 
The single has been getting super positive reviews all over the shop, but if you could pick one pop star who you would most like to retweet your song who would it be?
We both definitely agree that having Beyoncé retweet and write about our song would be cool, just because of how big an inspiration she is to us. She has such incredible taste in music and we really think she creates music that matters. And her platform is huge so that would of course also really help us out.
The video for 'Always on My Mind' is very moody and artsy, does this mean that you guys are the indie kids at school? If you had to pick a clique from 'Mean Girls' which one would you be in?
Hanna: You would be Regina George haha.
Andrea: Whaaaat hahahah NO! 😉
(After five minutes of intense discussion).
Hanna: We are Damian and Janis together. An amazing friendship.
Hanna you're rocking quite the swishy ponytail in the video for 'Always On my Mind' – very Ariana Grande! Which artists are your style inspirations?
I don't have a specific artist, I just choose different types of clothes and go with that. Actually, there is a girl in my class who can literally wear everything! So I guess you could say that that's where I get my inspiration from.
No comment from Ari. Just a sassy hair flip.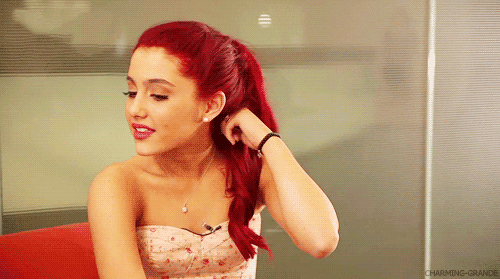 One of Ariana's most notorious moments was when she was caught licking doughnuts. If you guys were involved in a celebrity scandal what would it be?
Not sure what it would be, but hopefully we won't get caught 😉.
Which current pop duo would you compare yourselves to?
We don't really compare us to any duos but maybe 'Chloe x Halle' would be a good comparison cause they are two girls with the same age difference as us (two years) and they have really good taste in music which we also enjoy.
Were you ever tempted to enter 'Sweden's Got Talent' or 'Eurovision'?
Nah, that was never really our thing.
Do you have any collaborations in the works? Would you ever do a song with Zara?
No we haven't planned any collaborations, yet, it would of course be fun to try that out. But we are mainly focusing on just the two of us, we want to start off by introducing ourselves before collaborating.
Maybe, but not the first person that comes to mind when we think of collaborating with someone else.
Thanks girls! Now go forth and slay the world twice over. 
'Always on My Mind' is out now to stream and download. Tweet us @maximumpop if you're excited for what the future has in store for Hanna & Andrea.