Tom Becker is one of Red Eye's 5 horror writers, so he's a pretty apt in the ways of creepy characters and grisly villains. However, sometimes even horror writers get the creeps, and Tom Becker is no exception.
Here are his top 5 fictional fiends you wouldn't want to run into on Halloween night:
VERY BAD PEOPLE: 5 truly terrifying horror characters I wish I hadn't met…
1. Killer Bob
A nightmarish character who emerged from the twisted imagination of genius director David Lynch, Killer Bob is the hidden evil in the sleepy US town of Twin Peaks. A demon from the Black Lodge, he appears in dreams and visions, a feral man with straggly hair crouching down by bedsides. Bob possesses people and makes them kill, his own sneering face looking back at them in the mirror. I watched Twin Peaks on TV when I was a teenager, and Bob simply terrified me. He still does.
2. Pennywise the Dancing Clown
OK, this is just unnecessarily distressing. We all know that there's something sinister about clowns – with their pale faces and permanent smiles – but in his book It, horror maestro Stephen King ruined children's birthday parties forever. Pennywise is a clown with sharp brown teeth who lurks in the sewers of Derry, preying on the local children. If that wasn't distressing enough, in the TV miniseries adaptation actor Tim Curry gave Pennywise a voice straight out of the depths of Hell. All together now: "They all float, Georgie…"
3. Sadako Yamamura
Drawing on Japanese folktales, the original Ring film is a blood-freezing chiller about a vengeful spirit trapped in a videotape. It's all about the way Sadako moves – her jerky, shuffling, inhuman gait, her face obscured by lank hair. And just at the moment you think it's finally safe to breathe, Sadako delivers her coup de grace in a scene that left me curled up in a ball with my face behind my hands, whimpering for it to end. I haven't watched TV in the same way since…
4. Michael Myers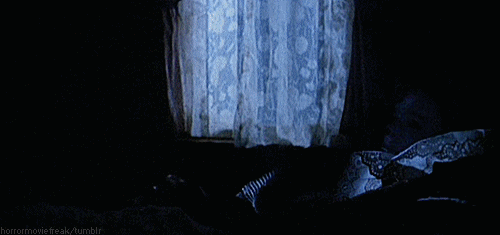 In John Carpenter's classic slasher movie Halloween, murderer Michael Myers escapes from a sanitarium to return to his hometown of Haddonfield, where the local teenagers are preparing for the spooky festival unaware of the real horror stalking them. What makes Myers so terrifying is his complete lack of character. His face is covered by a mask, he never speaks – in the credits he is only referred to as 'The Shape'. Myers is the ultimate boogeyman, a silent, relentless, remorseful killer – and he is headed straight for your house…
5. The Wicked Witch of the West
Laugh all you want – the Wicked Witch of the West scared the bejesus out of me when I was younger, and I reckon I wasn't the only one. The Wizard of Oz isn't all yellow brick roads and dancing munchkins – the opening black-and-white scenes in Kansas are atmospheric and almost ominous, especially as the tornado approaches. And once Dorothy lands in Oz, the Wicked Witch shatters the happy technicolour atmosphere every time she appears in a sour puff of smoke. A scratchy voice and green skin can be very effective, especially when you're seven years old.
Want more news and info on the Red Eye horror series? Check it out right here.
More spooky articles?