Welcome to MP!'s Halloweek, and the start of our horrifying Halloweeny content, including guest posts and giveaways.
Tonight, we have the gruesome Simon Cheshire, author 'Flesh and Blood', telling us what movies are totally terrifying, and perfect choices for your viewing this Halloween night – if you're brave enough.
TOP 5 SCARIEST MOVIES THAT SOMEHOW ESCAPED AN 18 CERTIFICATE
You don't need blood and gore spraying all over the screen to make a movie frightening. Some of the most memorable and haunting scares are a bit more subtle than that. Here are a few personal favourites, in no particular order…
Village Of The Damned (1960 version, not the remake) cert 12

Based on the sci-fi novel The Midwich Cuckoos by John Wyndham. A group of strange, identical babies are born to the women of a little village in the English countryside. As the babies grow up, the locals realise that these kids are alien in more ways than one. And they can read minds.
Creepiest bit: The calm, icy stare the kids give everyone.
Psycho (1960) cert 15



Alfred Hitchcock's best movie. More thriller than horror, but a brilliant piece of film-making which leaves you afraid to blink in case you miss something. The story of a psychopathic killer, and his very, very strange mother (plus, cinema's spookiest house!)
Creepiest bit: Sneaking down into the fruit cellar… "Mrs Bates?… Mrs Bates?…"
Invasion Of The Body Snatchers (1978) cert 15

The original – made in the '50s – was brilliant, but this version by Philip Kaufman is utterly terrifying. The citizens of San Francisco are gradually replaced by 'humans' grown from alien seed pods. Who's real and who's fake? Who can you trust? Where can you run…?
Creepiest bit: That scream… oh no, that scream…
The Fly (1958 – again, not the remake from the '80s) cert 12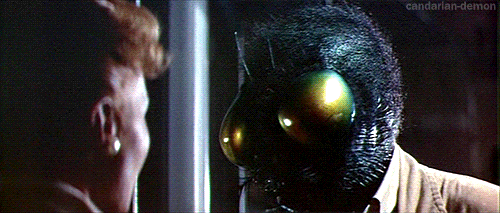 This must surely be one of the most horrible ideas ever put on film! A scientist invents a fabulous new machine, something that will revolutionise human life and society. Eager to test it out, he runs an experiment but doesn't notice one small, vital detail. The resulting accident literally changes him for the worse…
Creepiest bit: The ending. It will live in your nightmares forever. End of.
Salem's Lot (1979) cert 15

A TV mini-series rather than a movie, based on the book of the same name by Stephen King. A small town in America is gradually turned into a colony of vampires, following the arrival of the horribly weird Mr Barlow, and his equally nasty sidekick Mr Straker. If you're fed up of all those pretty, angst-ridden Twilight-type vampires, this is the perfect antidote!
Creepiest bit: just about every minute of it!
Want more news and info on the Red Eye horror series? Check it out right here.
More spooky articles?