Remember the time when good Halloween makeup consisted of a blob of green face paint and some (not so) carefully placed fake blood?
Yeah, well those days are now LONG gone, because we've upped our game and there's a whole new breed of Halloween makeup in town.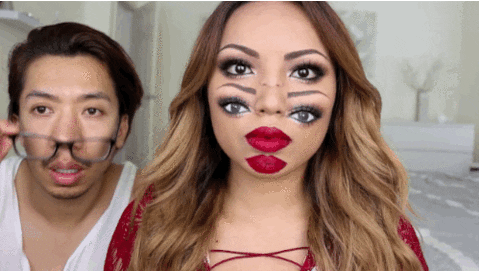 With SO many spooky beauty tutorials to choose from (god bless the internet), we're spoilt for choice, and often we're left completely undecided about which to try first.
But one specific Halloween beauty trend has just surfaced which could, potentially, top EVERYTHING ELSE.
Ladies and gents, witches and warlocks, let us introduce you to the 'floating head'.
IT LOOKS SO REAL. 
WHAT IS THIS SORCERY?
Should we call an ambulance?
Okay, seriously, this is too creepy.
It looks impossible to do, but actually, it's easier than you might think (although we'd probably recommend asking a steady-handed friend to help out for the best results — 'aint nobody got time for washing off a load of wrongly applied black paint).
There's just one teeeeeeeeeeny tiny problem with this look — you'll need to stand in front of a black or white background all night for the optical illusion to work. But for the sake of marvelling people with your bomb-ass makeup skills, we reckon it's worth it.
Are you brave enough to give it a go? Show us your looks by tweeting us @maximumpop.
IN NEED OF A LAST-MINUTE HALLOWEEN COSTUME AND ON A BUDGET? WE'VE GOT THIS
QUIZ: WHICH HALLOWEEN MOVIE SHOULD YOU WATCH NEXT?