The must-see drama/comedy series this season is by far 'Good Girls Revolt', a true story about women working at a magazine in the late 1960's and early 1970's. The women are fighting for their right to be published in the magazine, rather than researchers whilst juggling their current jobs as researchers, their love lives, and life in the United States during the 60's and 70's.
It's an incredible show with a truly empowering story (especially for teenage girls) but, unfortunately, it has gotten canceled by Amazon Instant Video. However, the executive producer is looking to bring the show to a new provider and we seriously agree that it needs another season for a quite a few reasons. (Disclaimer: the show is rated TV MA and does have drinking, drugs, and sexual scenes)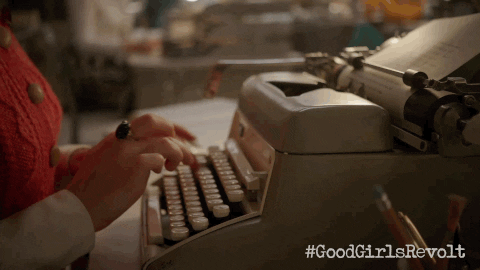 1. It has a super empowering plot that can inspire its viewers.
Although women are still fighting for equal rights in 2016, things were even harder for them in the 60's/70's. They were expected to start families right out of college or skip college altogether, and women with jobs suffered an even larger pay gap than they're is currently. In 'Good Girls Revolt', Patti Robinson and her crew of female researchers at 'News of the Week' band together to file an official complaint about being discriminated against at their job. They keep it a secret at first out of fear of what will happen to them if the men found out but, nonetheless, they still go on to fight for their rights (something all girls should feel comfortable doing).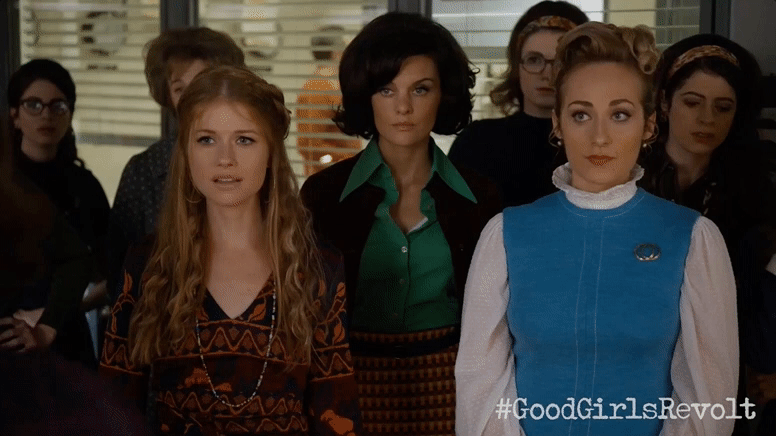 2. The girls' fashion is unbelievable.
Because 'Good Girls Revolt' takes place in the 60's and 70's, the fashion and style of all the ladies is to die for. From suede mini skirts to patterned dresses, there's nothing quite like the 'hippie' era fashion that basically shaped what we now call 'boho'. Not to mention, jumpsuits started getting popular during this time in addition to hoop earrings. TBH, we'd totally buy everything the girls wear in the show.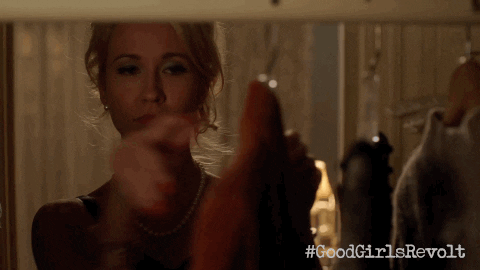 3. It touches on major historical social and political issues.
An important part of being an activist is being "woke", or well-informed, and 'Good Girls Revolt' reminds viewers of some historical events that seriously changed the world we live in. Obviously, it speaks about the United States Civil Rights act of 1964 aka the most monumental piece of civil legislation ever passed in the U.S. as the girls use it as their baseline to fight for their cause. It outlaws all discrimination based on sex, race, gender, religion in the workforce and just in general.
'GGR' also mentions both the United States entering the war in Vietnam and the Cold War. Both of these changed relations between America and foreign nations, as well as worked to actively stop the spread of Communism. So, basically, not only is this show super entertaining, but it also includes awesome historical anecdotes.
4. Patti Robinson is a 70's version of Hermione Granger.
Minus the magic, Patti Robinson is totally the 1970's version of Hermione Granger. She has gorgeous red hair as well as the same cool-girl vibe that Hermione has. Both Patti and Hermione are also not afraid to stand up to guys about what they believe in and never let any men get in their way. They're basically two of the most kick-butt red-headed girl power icons ever.
5. Girls need more role models in TV shows.
There is no shortage of female heroines in literature, but teenage girls need more characters to look up to on TV. Although Patti and her gals make some bad decisions along the way, they work hard and fight hard for what they believe in. They can inspire girls in this generation to do the same and show just how much it can pay off, as the story of their fight is true. With stats saying that 53% of women think female characters on TV influence them, it's important that women are not stereotyped or displayed negatively on TV. 'Good Girls Revolt' provides girls with rolemodels that are powerful women who make a difference in the show, based on women who made a big difference in real life.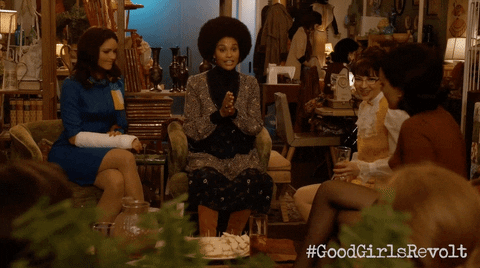 Basically, this show needs a second season regardless of whether or not it streams on Amazon Instant Video. Feel the same way? Take to Twitter and tweet us why at @maximumpop with #SaveGoodGirlsRevolt.