It's safe to say that Gigi Hadid is KILLING it right now. She's beautiful, successful, and she's even designed her own clothing collection – so we can't understand why anybody would want to try and dampen that.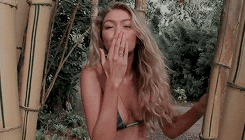 Unfortunately, there are people out there who go out of their way to try and make things difficult  ruin things for people like Gigi, by doing something completely horrific and totally uncalled for.
By now, you'll probably know that we're alluding to the recent attack which was made on Gigi during Milan Fashion week.
Last Thursday, when Gigi was making her way through the papparazi and just generally doing her thing after leaving the Max Mara show with sister Bella, she was grabbed and lifted up into the air by a complete stranger.
Gigi, as we probably all would, employed a spot of self-defence by elbowing her attacker in the face, before struggling free. And, being someone who isn't  afraid to confront such idiots,  Gigi then preceded to chase him down the street, before being restrained by her own security guys.
Gigi defended herself when a man grabs her after the Max Mara show. pic.twitter.com/IsHEkTkkER

— Hadid News (@HadidNews) September 22, 2016
Now, if you ask us, that's one brave reaction in an altogether terrifying situation. Nobody expects to be randomly grabbed in the street – not least one of the world's most watched supermodels in a crowded area.
You'd think, then, that people would want to highlight Gigi's bravery and her self-defence skills so that younger girls who may also one day find themselves in a similar situation could use her as a role model.
So when we saw this headline in The Sun, we were absolutely outraged:
Alternative headline – GOOD FOR HER: Gigi Hadid Reacts In Totally Appropriate Way When Random Man Tries To Lift Her In The Street pic.twitter.com/WTsbHcNt43

— Rachel McGrath (@RachelMcGrath) September 22, 2016
After receiving backlash on social media, the headline was then changed. But, to be honest, it wasn't much better:
The @GiGiHadid headline has now been changed. It's a slight improvement, but let's be real, there's still work to do. pic.twitter.com/uapTDeffaO

— Rachel McGrath (@RachelMcGrath) September 22, 2016
There are literally SO many things with these headlines, we're not entirely sure where to start.
Firstly, we'd like to ask The Sun what exactly it is they class as 'Model behaviour'. If that means being submissive to a random man picking you up, then we have some *serious* problems. Sure, Gigi may be a model, but that's JUST her profession. First and foremost, she is a grown woman and a human being, so she has every right to defend herself if she is physically abused in the street.
Do you reckon that the female journalist who wrote this piece would have just gone with the wind and happily let a random man pick her up in the middle of the street? We don't know her for definite, so we can't give you an answer, but our betting is no.
Secondly, it is completely and utterly wrong to even suggest that Gigi's reaction was aggressive. What on earth is 'aggressive' about struggling free from the grip of a stranger you've never met before? Absolutely nothing, that's what.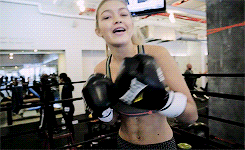 You'll probably find that the only person being 'aggressive' here, is the guy who thought it was totally okay to go and manhandle an innocent 21-year-old woman. It's obvious who's in the wrong here, so please don't try and dress it up otherwise, purely for the sake of acquiring more clicks.
Thirdly,  the man isn't unknown, and he certainly isn't a fan. The attacker in question is Vitalii Sediuk –  a Ukranian TV personality (or so he is called). Apparently, Sediuk  has already got a bad name for himself, after attempting to kiss Will Smith at the premiere of 'Men in Black 3', grabbing Leonardo DiCaprio at the Santa Barbara International Film Festival, and STICKING HIS HEAD UNDER  America Ferrera's DRESS during the premiere of 'How to Train Your Dragon 2'. He's also tackled Kim K at Paris Fashion Week, leaving Kris Jenner to fight him off.
Seriously, these aren't pranks, this is ASSAULT. Who watches a fully-grown man sticking his head up a woman's dress and thinks, 'oh, LOL, what a prankster'? Anyone who does have that reaction needs to take a long, hard look at themselves, that's for sure.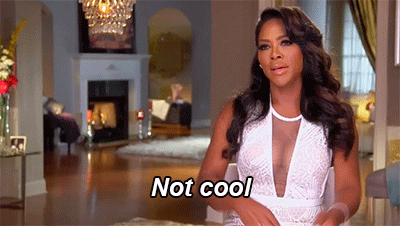 But the longer the press treat this man as a 'prankster', the longer he'll get away with it. If he was pulling these stunts around serious politicians or the police force, do you reckon he'd get away with it? Of course he wouldn't. But because he's tackling celebrities, all of a sudden, people seem to think that's okay?
It doesn't matter who he's attacking – the matter of fact is that he is ATTACKING people, and the press around this needs to reflect just that. The longer the papers like The Sun try to justify actions of 'TV personalities' like Sediuk, and in the process, demonise victims trying to defend themselves, the more blurred the lines between what we should and shouldn't be doing to look after ourselves will become.  Additionally, it's a worrying thought that, by glorifying the actions of people like Sediuk as 'pranks', the more frequently incidents like this will happen.
We need to be teaching people the value of personal space, and to treat women as human-beings, not objects. So please, let's treat attacks like this with the seriousness they deserve, and not just use them as another excuse for viral content.
Gigi has since defended her actions on social media. Taking to Twitter, she said:
and had EVERY RIGHT to defend myself. How dare that idiot thinks he has the right to man-handle a complete stranger. He ran quick tho 👊🏼😏🐱

— Gigi Hadid (@GiGiHadid) September 22, 2016
While we're seriously impressed with the way in which Gigi dealt with the situation, we think it's really sad that she felt the need to defend her actions in the first place. Nobody should have to publicly explain their actions on social media after such a harrowing experience,  especially not because of the careless actions of others.
We're just hoping that some good can come of this horrible situation, and that people will think more carefully before using others for their own entertainment in future. Remember – if they've not given consent, you have ABSOLUTELY NO RIGHT to touch somebody.
Now, if you don't mind, we're off to watch re-runs of Gigi absolutely SLAYING the runway.
What do you think of The Sun's headlines? Do you think it was just a bad prank gone wrong, or should the perpetrator face a criminal conviction? Let us know by commenting below!