If you're a Game of Thrones fan, we're 98% sure you'll want to know the *seriously* exciting news we've just uncovered about season 7. But if, for some reason, you don't want these fantastical spoilers, then we'd highly advise you to look away RIGHT THIS SECOND.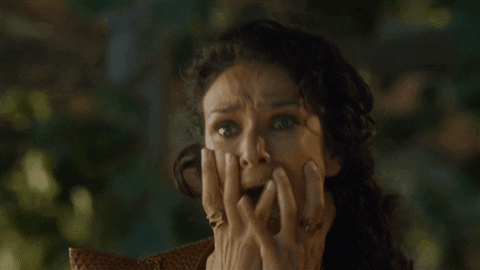 So, here's the info we have so far. Pictures have been leaked which show Daenerys and Jon Snow meeting. Yup, that's right — after all this time they are FINALLY going to meet.  SO MUCH EXCITEMENT.
Super huge #SPOILERS It's Daenerys Targaryen and Jon Snow, they will have their first meeting in Season 7 pic.twitter.com/AKvPAZtkcU

— Emilia Clarke Fans* (@Emilia_Updates) October 23, 2016
Oh, and just to confirm our suspicions, there's also a video.
The internet is a beautiful, beautiful thing.
Emilia Clarke and Kit Harington have been spotted filming on the islet Gaztelugatxe (nope, we can't say it either), on the northern coast of Spain. It's not quite the chilly winter climate in which you'd expect to find Jon, so we're wondering whether he's developed a penchant for Spanish package holidays. Now that WOULD be a plot twist.
Unsurprisingly the internet is now shipping them as Westeros' newest power couple, and we are TOTALLY behind that.
And just to add some more boiling water to the already bubbling pot, The Independent have reported that Jon Snow is set for ANOTHER face-to-face meeting with Theon Greyjoy. Awkward balloons at the ready, people.
JEDWARD IN 'GAME OF THRONES' AND 5 OTHER POP STAR TV CAMEOS THAT WE HAVE TO SEE

GAME OF LIRRY: 1D FANS MAKE LIAM AND HARRY EDIT TO BIRTH JON SNOW LOOKALIKE.
Unfortunately we've still got a while to wait, as season 7 airs in summer 2017 (hopefully George will be done by then). For now, we'll just have to keep scrolling back through the Kit Harington archives.
Are you super excited for season 7? Do you think Daenerys and Jon Snow will form an alliance or become enemies? Let us know by leaving a comment below!