When our fave books get down with the feminism it brings us more joy than words can express. If you don't like your books with a dose of feminism then, well…
For those needing more badass fictional ladies in their lives, here's some of our top recs:
Before we get started though, what's up with people who find calling themselves a feminist so hard?! Yo, like Beyoncé says, we just want equality.
Sometimes it might totally suck, but we're in it for the long haul.
Now, let's break it down:
Young Adult
We've already given you 6 fierce feminist reads, but here's MORE. Because you can never have enough girl power going around, right?!
'What's A Girl Gotta Do?' by Holly Bourne – Let's be real for a second because Holly Bourne is the current reigning queen of YA and we here at MP! adore her just as much as you do. Isn't she just fab?!
So of course you've heard of her Spinster Club trilogy by now but we're making it our aim in life to make sure everybody reads these books because they are perfect for the teen feminist in you. Especially Lottie's story, told in 'What's A Girl Gotta Do?' which truly is feminist AF.
'Front Lines' (Soldier Girl #1) by Michael Grant – Ever wondered what World War II might have been like if women were able to volunteer too? Michael Grant's new 'Soldier Girl' series is just that. We're obsessed with all things Grant to begin with but this one tops the hat when it comes to feminism.
'Rebel of the Sands' by Alwyn Hamilton – Another fierce lady on the YA scene, Alwyn Hamilton's debut is filled with sand, action, and badass girl power.
Seriously, never mind her books, we're just as obsessed with Alwyn herself. Check out her Snapchat!
Amani is a flawed hero and we LOVE IT – her wit is razor sharp and she's quick-witted and empathetic yet she makes mistakes, but she learns from them. We want to join this rebellion right now and are probably going to sit down and sob until the sequel, 'Traitor to the Throne' is released.
Btw, on that note here's some exciting news for you…
Guess what? We'll be revealing the cover for #TraitorToTheThrone by @AlwynFJH on MONDAY! @FaberChildrens pic.twitter.com/Rbs0cWTzqr

— Maximum Pop! Books (@maximumpopbooks) September 7, 2016
Poetry
If you want something shorter that's going to make your feminist side burn with a fiery passion, these poetry collections are definitely for you.
'milk and honey' by Rupi Kaur – When we first read this we wanted to single-handedly take down the patriarchy. Rupi Kaur's writing is honest, jilting and so, so empowering. Fair warning that she deals with some hefty topics like rape and heartbreak but we can't get enough of the emotion she pours into every poem.
They're all pretty short and you can finish the entire collection in under an hour, if you're looking for some quick fire feminism.
'The World's Wife' by Carol Ann Duffy – Current Poet Laureate, you've almost definitely studied some Duffy if you've ever sat in an A Level English Lit class – but we promise, she isn't as boring as that might make her sound.
If you've somehow missed the 'World's Wife' collection, first published in 1999, Carol Ann Duffy puts her classic feminist spin on characters, tales, and myths from history that previously focused on men by revealing the women (fictious or not) behind them.
From Anne Hathaway, famed wife of Shakespeare, to Mrs Icarus and Elvis' twin sister, this collection is feminist fun from start to finish.
'The Princess Saves Herself In This One' by Amanda Lovelace – If that title doesn't do it for you, we don't know what will. If you need a little empowerment in your life, these poems have it. Reading this makes us want to go out into the fantasy lands and kick some knightly butt already.
Non Fiction
If you'd rather have some straight up feminist facts to get you going, here's our non-fiction recs:
'Girl Up' by Laura Bates – Taking over the feminist non-fiction scene, Laura Bates, author of 'Everyday Sexism', is a total BAMF in her own right. To start with we love the idea of "girl up" rather than "man up" but if that doesn't sell you, maybe the dancing vagina end pages might.
They're pretty rad, aren't they? Laura Bates takes on the tough topics in a fun and accessible way so we'd totes rec this as a gateway into the feminist non fic world.
'I Am Malala' by Malala Yousafzai – If you don't know who this lady is you must've been living under a rock. Malala is the girl who took a bullet for women's right to education and won a Nobel Peace Prize for it and her global campaigning. Did we mention she's only 19, too?!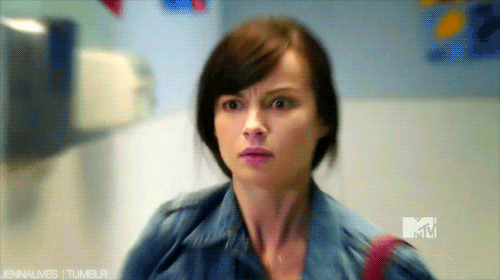 'I Am Malala' is her remarkable story from beginning to now, how she went from being shot by the Taliban to global standing and became our ultimate fierce lady goals.
'A Room of One's Own' by Virginia Woolf – Virginia Woolf might be a notoriously difficult writer to read but she's pretty much the pioneer of feminist writing. She was making waves before even our grandparents were born!
This one is pretty short and we love how it blurs the boundary between fiction and non-fiction. If you can get past the wordiness of it all there's some pretty important lessons to be learnt from Woolf. She rocks!
So there you have it, 9 feminist AF books ready or you to dive into no matter what kind of thing you enjoy reading. Which of these can you not wait to read? Tweet us @maximumpopbooks!