Despite only having written 4 books (with a few others being co-written), John Green is possibly the biggest name in YA literature right now. On top of that, with 2 of his novels becoming films, the latest 'Paper Towns' hitting cinemas this summer, Green is an obvious staple for any YA reader.
If you've read all of John Green's works though, and are looking for something new, then we would point you in the direction of Robyn Schneider, heartbreaker extraordinaire and tres talented writer.
Here are 3 reasons that Robyn is most definitely on par with the king of YA.
1. We love John Green for those lines, the ones we scribble down in notebooks and draw on our arms. The ones people make art from and have as their phone backgrounds.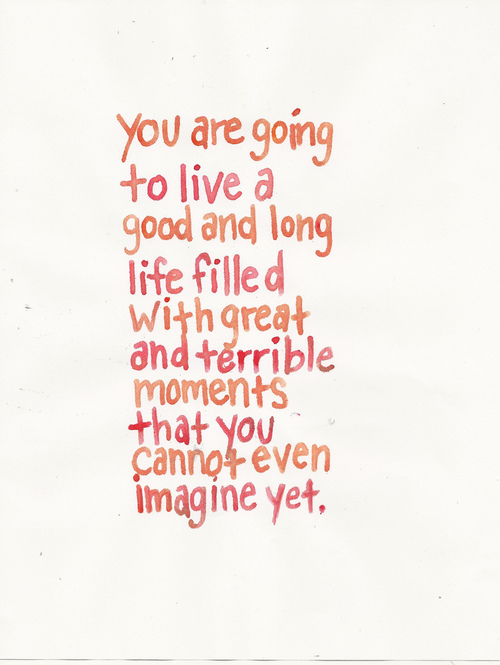 via ed-ingle.tumblr.com
Robyn Schneider is much the same. Her style of writing is firstly, easy to read; it's like listening to one of your more funny, intelligent friends tell you a story. Secondly, it's got lines that jump out at you, just like Green.
For example:
"That's all you can do in this world, no matter how strong the current beats against you, or how heavy your burden, or how tragic your love story. You keep going." – 'Extraordinary Means'

"And I'd been so, so wrong. Being temporary doesn't make something matter any less, because the point isn't for how long, the point is that it happened" – 'Extraordinary Means'
You get the point.
2. The characters in Green's books are quirky and funny.
You have Margo from 'Paper Towns', an impulsive mysterious girl; Alaska from 'Looking For Alaska' who is described as  a "hurricane"; the wannabe-martyr Augustus Waters from 'The Fault in Our Stars', the Judge Judy-loving best friend Hassan in 'An Abundance of Katherines' – on top of many others.
It's safe to say that John Green will win you over with characters that break out of cookie-cutter stereotypes.
Robyn Schneider will win you over the same way, drawing up a diverse range of wonderful characters. From the overachieving Lane, who's only focus in the beginning is school, to the rebellious, complicated Sadie, who is more than the standard manic pixie dream girl some people may try to brand her as, Schneider makes characters who feel real.
Their group of friends are also each distinct: the musical Charlie, bound-for-the-stage Marina, and the sarcastic Nick. The group is fun to read, tossing about silly, inside jokes like real friends.
3. Both of these novelists have the wonderfully painful talent of making you laugh as much as reducing you to tears. Like buckets of tears, and then they let you fill up on that post-book mourning kind of melancholy you don't know what to do with because, damn it, none of it is real.
And you'll love it. You'll cry and feel a ridiculous ache in your chest for these people who never existed and it will feel beautiful to be so touched by words on a page and a writer you have never had the privilege of meeting, and you'll tell all your friends they have to read it.
As much as Robyn Schneider can be compared to John Green though, it's important to realise her full talent as something completely separate as well.
Brilliant in her own right with a head full of wonderful words and great stories, Robyn Schneider is an author you should check out whether you love, hate or are completely indifferent to John Green. Because she's not John Green, at the end of the day. She's Robyn Schneider, and her books are vastly entertaining.