Now it's November we can all start wearing our FAVE Christmas jumpers and drink as much mulled Ribena as possible.
But, after all the Halloween wonderfulness we've been enjoying for the past month (or six), you might be suffering from the post-spookfest blues — and we do NOT blame you.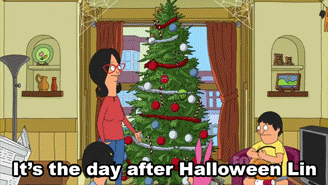 Because we're not *quite* ready to forget about Halloween for another year just yet, we've been searching the interwebs for the best costumes of 2016.
And while us humans did a great job (well done, guys),  there was one group of creatures that did Hallowen even better — DOGS.
Canine stars like Doug the Pug, Zoella's pooch Nala and Manny the Frenchie were on top form this year, and we are *seriously* impressed.
Need more convincing? Look no further.
Pumpkins were definitely this year's fave get-up.
There were superheroes aplenty.
And of course, the more traditional Halloween attire.
Then there were those who opted for the cute factor. 
And the downright delicious.
There is one human, though, who out-costumed EVERYONE. He had the genius idea of dressing up as his dog's favourite toy, and let us tell you, it is the CUTEST THING EVER.
Seriously, how cute is that?
We'd love to see some snaps of your pets this Halloween! If you have any crackers, make sure to send them to us at @maximumpop!