If you went anywhere near social media yesterday you probs definitely noticed that it was Pancake Day. Seriously, Snapchat was full of the things. We even gave our own pancake art Facebook Live a go….and failed. MISERABLY.
We never thought we'd say this, but if we see another pancake right now we'll probably turn into one. Unfortunately, brown and floppy isn't our look. MEH.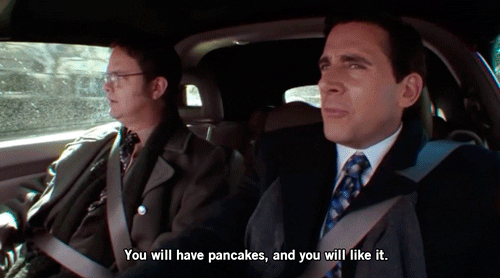 Anyway, now Pancake Day's over, we're all expected to give up our favourite things for Lent. CRY. After narrowing the list down (we're not giving Diet Coke up for ANYBODY, no chance), we thought we'd attempt to give up chocolate, LOL.
To help us along the way, we thought we'd have a go at creating our very own chocolate frog lip balm – because if we can't eat chocolate, we can at least SMEAR IT ALL OVER OUR GODDAMN LIPS.
For the DIY we used YouTuber Demi Siriusly's video for inspiration. In the clip, Demi shows you how you can create your very own lip balms that look and smell like iconic Harry Potter flavours.
As well as a pumpkin spice balm, there's also a Butterbeer one, and we could not be any more in awe. Seriously, they're so epic.
We adapted the recipe slightly as we wanted to incorporate things we already had lying around the house – after all, the whole point of a DIY is to save a little money, right?
But fret not, wizards! Our version of the chocolate frog lip balm is just as good as Demi's. It also looks pretty darn cool. Hermione would be impressed with this A+ wizardry.
So, get your wands out, and let's whip up a batch.
---
I tried creating my own temporary Harry Potter tattoos and it's riddikulusly easy
We tried making our own Harry Potter love potion and Ron basically fell in love with me
---
What you'll need
Lip balm
Cocoa powder
Vanilla extract
Chocolate frog label (Available here)
Ribbon and other optional pretty stuff
We started by removing the lip balm from its container. This step's really easy, wizards. All you need to do is push it right to the top and then pull the stick of balm away. See, simple!
We then popped it in a bowl and poured in a scoop of cocoa powder. It's smells amazinggggg!
Once we had the two ingredients in the bowl, we then zapped it in a microwave for a minute.
After removing the bowl, we gave the mixture a quick stir to get rid of any lumps and bumps. Then we added a few drops of vanilla extract.
Next, we poured the mixture back into the lip balm container. It's easiest to do this with a spoon. We then popped it in the fridge to set.
Once it was set, we cut out our chocolate frog label and stuck it on the tube – you can download the label here. We then attached a ribbon because you know…. #asthetics, etc.
And, that's how you can create the BEST lip balm imaginable. Make it for yourself or for all your wizard pals, it's super easy and makes a great gift.
Show us photos of your chocolate frog lip balm by tweeting us @MaximumPop.