Yes. You are.
1) 'When She Loved Me'
I'm sorry, we're hitting you all guns blazing with this one. Definitely the saddest Disney song of all time, no question. Taken from 'Toy Story 2', this heartfelt ballad tells the tale of Jessie, who was abandoned by her owner when she grew too old for toys. Oh god, here come the waterworks already.
2) 'Part of Your World'
We all desire something and one little mermaid just desired to be human. The yearning in her voice just breaks our hearts every time. LET HER BE HUMAN FOR GOD'S SAKE!
3) 'Gotta Go My Own Way'
In every 'High School Musical' film there was a Gabriella leaving song. You literally could not hold that girl down. Her and Troy ended up fighting around two thirds through the film and it looked like they had broken up but she always popped up at the end and was all smiles. Like life is supposed to be.
4) 'Do You Want to Build a Snowman?'
What starts off as an innocent song about a child wanting to play slowly morphs into a tragic tale of loss and neglect. Well that suddenly got dramatic, didn't it?
5) 'Reflection'
Mulan has a bit of an identity crisis with this one. She feels like she's let her family down and that she will never amount to anything. Little does she know what fate has in store for her.
6) 'I See the Light'
All her life Rapunzel had dreamed of seeing the lanterns which are lit every year on her birthday and finally her dream comes true. In that moment she realises how deeply she is in love with lovable rogue Flynn. It's the ultimate romance goals.
7) 'Beauty and the Beast'
Don't they scrub up well? Belle emerges looking like a princess, the Beast is transformed into the prince we know he is inside and they are joined together in a dance so beautiful that even the angels look on with envy.
8) 'Can You Feel the Love Tonight?'
A serene and perfect song about falling in love. It's so pure it brings a tear to the eye.
9) 'Colours of the Wind'
Pocahontas teaching John Smith to appreciate nature is magnificent. We can all learn a lesson here.
10) 'When There was Me and You'
The original Gabriella 'walking away' song from 'HSM' numero uno back in 2006. Even though we know they get back together in the end, hearing Gabriella doubt the precious love that her and Troy shared makes us well up.
11) 'A Whole New World'
Part of our crying to this song is because we're so seething with jealousy that no-one has ever taken us on a magic carpet ride through the clouds. RUDE!
There aren't enough tissues on the planet to stem the river of tears oozing out of our eye sockets.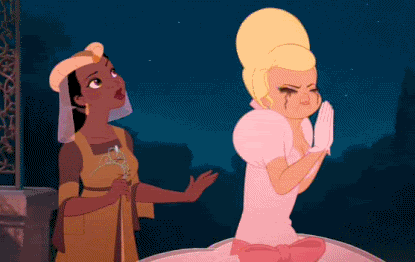 I think we need a moment. If you feel our pain, tweet us @maximumpop. Misery loves company.