Remember a few weeks back when rumours started circulating about a Sephora store in London? OF COURSE YOU DO.
While we were all super excited, we didn't want to get our hopes up, because that kind of heartbreak would be pretty much un-fixable. To put it into perspective, it would probably make Adele's lyrics look cheery.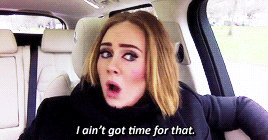 But it looks like the struggle is finally over, because some insider information has just been announced. 
According to beauty blogger Caroline Hirons (she's kind of a big deal, by the way), Sephora have actually confirmed the opening of  a UK store.
While this all seems pretty convincing (we can't really understand why someone like Caroline would tweet such LIFE-CHANGING news without it being confirmed first), we're still waiting for actual confirmation from both Westfield and Sephora.
But hey, you know what they say — no news is good news, right?
Has this news got you EVEN more excited for the opening of Sephora? Let us know by leaving a comment below!