The beautiful soul that walks around in the form of Chris Brown has just released the tracklist for his upcoming album 'Royalty' and we are kind of like very really excited.
'Royalty' will be Chris' seventh studio album and is set for release on December 18. We got hold of the tracklist and you can see it below.
1. Back To Sleep
2. Fine By Me
3. Wrist (Feat. Solo Lucci)
4. Make Love
5. Liquor
6. Zero
7. Anyway
8. Picture Me Rollin'
9. Who's Gonna (NOBODY)
10. Discover
11. Little Bit
12. Proof
13. No Filter
14. Little More (Royalty)
Deluxe Bonus Tracks:
15. Day One
16. Blow It In The Wind
17. KAE
18. U Did It (Feat. Future)
Fun fact: This album is named after Chris Brown's daughter Royalty, isn't that adorable?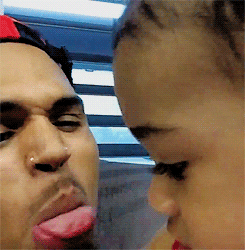 We're pretty gutted there aren't more collaborations but we can't complain because we just NEED new Chris Brown music…
Are you as excited as we are? Let us know what track you're most looking forward to hearing on Twitter @maximumpop