It's not just this freakishly intense cat that feels the burning in your heart. When you've been screwed over and you're down in the dumps you can always scream along with your favourite stars who are always there for you when times get rough.
Dark Angel of Retribution Taylor Swift can teach us all a thing or two about breakups. She's literally dealt with every stage! But nothing feeds the fire like 'Picture to Burn'.
Best Breakup Lyric: "So go and tell your friends that I'm obsessive and crazy, that's fine, I'll tell mine that you're gay!"
Go ahead and throw everything around the room. Smash up a whole load of stuff. RiRi can heartily recommend it.
Best Breakup Lyric: "I'm roasting marshmallows on the fire,
and what I'm burning is your attire"
You hope he gets shat on by a thousand pigeons on the way home. That's a lot of crap. But not as much as you had to suffer. Adele feels you.
Best Breakup Lyric: "Think of me in the depths of your despair, make a home down there, as mine sure won't be shared"
You could do so much better than that loser.
Best Breakup Lyric: "I hate you now, so go away from me, you're gone, so long, I can do better, I can do better"
Can't believe he threw everything you had away? It may not have been released as a single but this deep cut from Little Mix's 'Salute' album has been making fans cry since 2013.
Best Breakup Lyric: "You never brought me flowers, never held me in my darkest hours, and you left it so late that my heart feels nothing, nothing"
Nothing better than screaming out all the things you hate about your ex along with Smiley Miley to chase away those blues.
Best Breakup Lyric: "But what I need to hear now is your sincere apology, when you mean it, I'll believe it, if you text it, I'll delete it"
Screw him. You didn't even like him anyway.
Best Breakup Lyric: "I'm not spending any time, wasting tonight on you, I know, I've heard it all"
8) Ed Sheeran – 'Don't"
This one's quite specific to Ed, but it's good to know even superstars have to go through their share of miserable, cheating losers.
Best Breakup Lyric: "That heart is so cold, all over my home, I don't wanna know that babe"
He had his chance and you're so over it.
Best Breakup Lyric: "But even if the stars and moon collide, I never want you back into my life, you can take your words and all your lies, oh oh oh I really don't care"
She was the first girl to scream on the track and you can scream along while deleting all your ex's texts. Sometimes there's nothing more therapeutic than screaming "I hate you so much right now".
Best Breakup Lyric: "I hate you so much right now, I hate you so much right now, I hate you so much right now, ahhhhh…"
11) Beyonce – All of 'Lemonade', but especially 'Hold Up'
The artist formerly known as the Queen of Booty Shaking recently reinvented herself Queen of Heartbreak and released a literally-all-bases-covered step by step guide to dealing with a breakup. 'Hold Up' represents the jealous and crazy stage. That'll do nicely.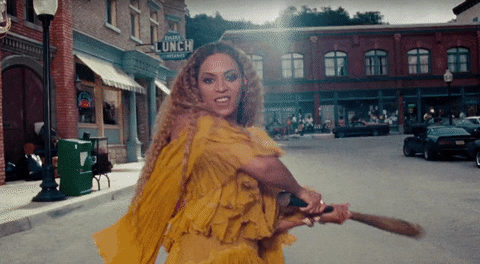 Best Breakup Lyric:  "Oh it is such a shame, you let this good love go to waste"
Hope our heartbreak healing selection helps. If it does we'd love to know @maximumpop.