Guest blogger Sophie from Sea, Earth, Sky has a treat in store for us today. Will you be tricking or treating this Halloween with these delicious bookish recipes?
It's Halloween and that means that we're in the thick of autumn, the perfect season for book lovers: dark, cold evenings to curl up under the covers with a good read, cosy layers, crisp days – and food. So much food.
To celebrate the arrival of Halloween and autumn, we've picked out some of our favourite seasonal foods from some of the YA books we love, and how you can make them, and make your Halloween a little bit sweeter this year.
Levi's Pumpkin Mocha Breve
"My own concoction – Pumpkin Mocha Breve, light on the mocha."
Nothing says autumn like back to school, and 'Fangirl' by Rainbow Rowell encompasses all those back to school feelings, particularly with Levi's personalised pumpkin drink. Here's a fan recipe for Levi's Pumpkin Mocha Breve so that you can make it at home!
Pumpkin Pasties
"On Halloween morning they woke to the delicious smell of baking pumpkin wafting through the corridors."
This post wouldn't be complete without a reference to the queen of all Halloween treats: the Hogwarts Halloween feast. Pumpkin features heavily in 'Harry Potter' – from Hagrid's giant Pumpkins to Pumpkin Pasties on the Hogwarts Express. Personally we wouldn't mind tucking a couple of these into our bags to enjoy on a long train journey – or curled up with a good book! Make them yourself here.
Treacle Tart
"A moment later the desserts appeared. Blocks of ice cream in every flavor you could think of, apple pies, treacle tarts, chocolate éclairs and jam doughnuts, trifle, strawberries, Jell-O, rice pudding…"
From something savoury to something sweet. Treacle sums up dark autumn days, bonfires, cold nights, and cosy hats and scarves. From the Queen of Fiction to the Queen of Baking – here's a sticky treacle tart recipe from Mary Berry for you to recreate at home.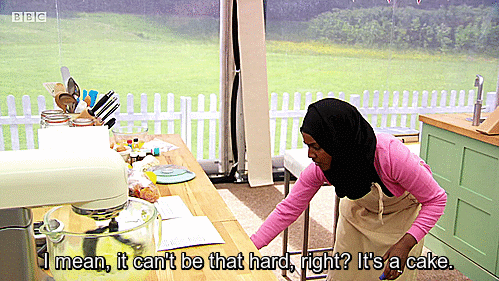 Anna's Macarons
"Bin after bin of macarons in every flavour and colour imaginable. Grass greens and punky reds and sunshine yellows. […] And then I notice cinnamon and hazelnut praline and I just want to die right there."
The characters in 'Anna and the French Kiss' by Stephanie Perkins go for a Halloween picnic in a graveyard. A few days later, Anna heads to a patisserie for some macarons. Fiddly as they are to make, macarons are scrumptious any time of year – and can be flavoured in hundreds of different ways.Find out how to make your own here.
November Cakes
"We both look mournfully in the window as we pass, though I'd sworn to myself that I wouldn't. Nothing says orphans like two kids breaking their necks looking at trays of November cakes and platters of shaped cookies and lovely soft loaves of bread still steaming the window they're next to."
Created by Maggie Stiefvater for 'The Scorpio Races', November Cakes are sticky, gooey, filled with honey, butter, cream, sugar, and more. They sound utterly irresistible – and ideal for those long autumn days.
And you can even make them, truly enriching the reading process. Maggie created a recipe, which you can find here.
Simon Snow's Cherry Scones
"At Watford, there are fresh-baked cherry scones for breakfast every day if you want them. And again in the afternoon with tea. […] I just can't pass the scones up if they're there. They're soft and light and a little bit salty."
Simon Snow isn't just obsessed with Baz – he's obsessed with Watford's Cherry Scones. Magic, boarding schools, and autumn always seem to be tied in with delicious sounding food, and the cherry scones in Rainbow Rowell's 'Carry On' are no exception. Slathered with butter, these sound heavenly, and if we had the ability we'd magic them right here, right now. Make them here.
We could only pick some of the most mouth-watering treats, but we're sure that there are plenty more out there! You can even use your fave baked treat to help you decide what you should totes read next.
What are your favourite YA autumnal and Halloween bookish treats? Any delicious ones we missed?