Get excited! It's a new week, with some fab new releases, and we're here to give you the low down on what's not-to-be-missed in the world of YA.
'Empire of Storms' (Throne of Glass #5) by Sarah J. Maas
The long path to the throne has only just begun for Aelin Galathynius. Loyalties have been broken and bought, friends have been lost and gained, and those who possess magic find themselves at odds with those don't.
As the kingdoms of Erilea fracture around her, enemies must become allies if Aelin is to keep those she loves from falling to the dark forces poised to claim her world. With war looming on all horizons, the only chance for salvation lies in a desperate quest that may mark the end of everything Aelin holds dear.
Aelin's journey from assassin to queen has entranced millions across the globe, and this fifth installment will leave fans breathless. Will Aelin succeed in keeping her world from splintering, or will it all come crashing down?
'A Torch Against the Night' (An Ember in the Ashes #2) by Sabaa Tahir
Elias and Laia are running for their lives.
After the events of the Fourth Trial, Martial soldiers hunt the two fugitives as they flee the city of Serra and undertake a perilous journey through the heart of the Empire.
Laia is determined to break into Kauf – the Empire's most secure and dangerous prison – to save her brother, who is the key to the Scholars' survival. And Elias is determined to help Laia succeed, even if it means giving up his last chance at freedom.
But dark forces, human and otherworldly, work against Laia and Elias. The pair must fight every step of the way to outsmart their enemies: the bloodthirsty Emperor Marcus, the merciless Commandant, the sadistic Warden of Kauf, and, most heartbreaking of all, Helene – Elias's former friend and the Empire's newest Blood Shrike.
Bound to Marcus's will, Helene faces a torturous mission of her own – one that might destroy her: find the traitor Elias Veturius and the Scholar slave who helped him escape… and kill them both.
'Born Scared' by Kevin Brooks
Elliot is terrified of almost everything.
From the moment he was born, his life has been governed by acute fear. The only thing that keeps his terrors in check are the pills that he takes every day.
It's Christmas Eve, there's a snowstorm and Elliot's medication is almost gone. His mum nips out to collect his prescription. She'll only be 10 minutes – but when she doesn't come back, Elliot must face his fears and try to find her. She should only be 400 metres away. It might as well be 400 miles…
'Demon Hunters: Trinity' by Olivia Chase
On her 16th birthday, self-reliant Diana is dragged from London to Edinburgh. Her occult-obsessed father is investigating a spooky murder in the city. She is used to trailing in his wake, but this time things are different. An encounter with an enigmatic young man, a disturbing message left in her bedroom . . . and her dad taken hostage by a demon. To top it all, her two new friends inform her she's a Demon Hunter.
Can life get any weirder? Will Diana rescue her dad, learn how to defeat enemies she never knew she had, and come to terms with her new destiny?
Turning sixteen just turned deadly.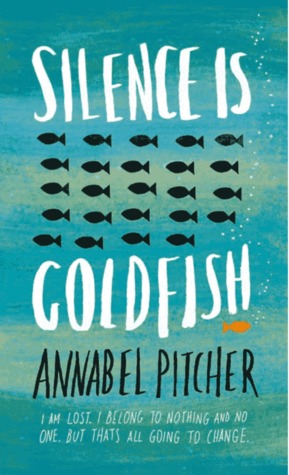 'Silence is Goldfish' by Annabel Pitcher (paperback release)
My name is Tess Turner – at least, that's what I've always been told.
I have a voice but it isn't mine. It used to say things so I'd fit in, to please my parents, to please my teachers. It used to tell the universe I was something I wasn't. It lied.
It never occurred to me that everyone else was lying too. But the words that really hurt weren't the lies: it was six hundred and seventeen words of truth that turned my world upside down.
Words scare me, the lies and the truth, so I decided to stop using them.
I am Pluto. Silent. Inaccessible. Billions of miles away from everything I thought I knew.
Tessie-T has never really felt she fitted in and after what she read that night on her father's blog she knows for certain that she never will. How she deals with her discovery makes an entirely riveting, heart-breaking story told through Tess's eyes as she tries to find her place in the world.
Which of this week's releases are you looking forward to reading? Let us know @maximumpopbooks!
And if that wasn't enough to quench your thirst for YA, check out what the rest of 2016 has to offer on our complete list of releases or just see what the rest of September has to offer.