Get excited! It's a new week, with some fab new releases, and we're here to give you the low down on what's not-to-be-missed in the world of YA.
Which of these fab new releases will YOU be picking up? Let us know in the comments and you might feature in our mailer.
'Outward Blonde' by Trish Cook
Sixteen-year-old Lizzie Finkelstein is a hard-partying socialite who lives a charmed life with her mother in Manhattan. After a public drunken sexual escapade results in both an arrest and an embarrassing viral video online, Lizzie's parents stage a late night intervention.
Camp Smiley is a far cry from Lizzie's high society life in New York. Without her stable of luxury hair/makeup items, her teacup Pomeranian, contact with the outside world or access to social media, Lizzie must face the harsh conditions of the outdoors. Grouped with troubled campers in which she's certain she has nothing in common (except Jack, who's pretty hot), Lizzie must now learn to dig her own toilet in the woods and build a fire by rubbing two sticks together before the camp will ever let her go back to her former existence. She has a choice: get with the program, or get out of there.
'Fun Science' by Charlie McDonnell
In my book, I'll be taking you on an awesome journey through the cosmos, beginning with the Big Bang through to the Solar System and the origins of life on Earth, all the way down to the particles that make up everything around us (including you and me!).
Expect frequent digressions, tons of illustrations of not-so-sciencey things (NB a microwave flying through space), and pages packed with my all time favourite mind-bending science facts.
So, get ready for a faster-than-the-speed of-light (OK, not quite) tour of all of the best and most interesting things that science has to offer us… and most importantly: WELCOME TO THE UNIVERSE!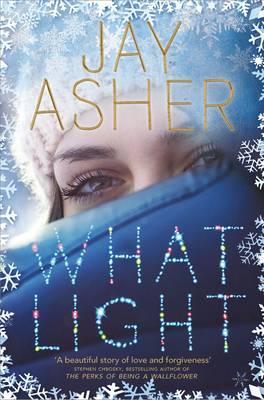 'What Light' by Jay Asher
Sierra's family runs a Christmas tree farm in Oregon – it's an idyllic place for a girl to grow up, except that every year they have to pack up and move to California to set up their Christmas tree lot for the season. So Sierra lives two lives: her life in Oregon and her life at Christmas. And leaving one always means missing the other. Until this particular Christmas, when Sierra meets Caleb, and one life begins to eclipse the other…
'Gemina' (The Illuminae Files #2) by Amie Kaufman and Jay Kristoff
Hanna Donnelly is the station captain's pampered daughter and Nik Malikov is the reluctant member of a notorious crime family. Together they struggle with the realities of life aboard the galaxy's most boring space station, blissfully unaware that Kady Grant and the Hypatia are headed right toward Heimdall with news of the Kerenza invasion.
Will you be grabbing any of these when they're out this week? Let us know in the comments below and we might just feature you in our Sunday mailer.
And if that wasn't enough to quench your thirst for YA, check out what the rest of 2016 has to offer on our complete list of releases.