Get excited! It's a new week, with fab new releases, and we're here to give you the low down on what's not-to-be-missed in the world of YA.
'Every Exquisite Thing' by Matthew Quick
Nanette O'Hare is an unassuming teen who has played the role of dutiful daughter, hard-working student, and star athlete for as long as she can remember. But when a beloved teacher gives her his worn copy of The Bubblegum Reaper – the mysterious, out-of-print cult-classic – the rebel within Nanette awakens.
As she befriends the reclusive author, falls in love with a young but troubled poet, and attempts to insert her true self into the world with wild abandon, Nanette learns the hard way that sometimes rebellion comes at a high price.
'Generation Next' by Oli White
Things haven't been easy for Jack recently – life as a teenager has its ups and downs. But when he meets a new group of friends, who are every bit as geek as they are chic, his luck seems to be changing. Each of the group is talented and when they pool together to create Generation Next, an incredible new kind of social media platform, it's clear that they're on to something special.
What if your Instagram account grew by hundreds of thousands of followers overnight, and big companies were fighting each other to offer you photoshoots? When GenNext suddenly goes viral, Jack and his friends are thrust into a crazy world of fame which is as terrifying as it is awesome.
Because someone out there is determined to trip Jack up at every step. If he doesn't stop them, soon everyone he cares about – his friends, his family, and the girl he's falling for – will be in danger…
'If I Was Your Girl' by Meredith Russo
Amanda Hardy is the new girl at school.
Like everyone else, all she wants is to make friends and fit in. But Amanda is holding back. Even from Grant, the guy she's falling in love with.
Amanda has a secret.
At her old school, she used to be called Andrew. And secrets always have a way of getting out.
A book about loving yourself and being loved for who you really are.
'Girl Out of Water' by Nat Luurtsema
A thoroughly British teen comedy starring a hilariously flawed heroine with a quip for every occasion – perfect for fans of Holly Smale, Rae Earl and Jenny MacLachlan. Lou Brown's life is going down the pan. Best friend Hannah sailed through the Olympic time trials and is off to her fancy-pants new swim training school, while Lou's own failure to qualify leaves her without a hobby – or a friend. As Lou tries to navigate her post-swim world, a chance encounter with three boys with stars in their eyes takes her life in a surprising new direction. One that leads to a crazy world of underwater somersaults, talent show auditions, bitchy girls and one great big load of awkward boy chat.
'The King Slayer' (Witch Hunter #2) by Virginia Boecker
Former witch hunter Elizabeth Grey is hiding within the magically protected village of Harrow, evading the price put on her head by Lord Blackwell, the usurper king of Anglia. Their last encounter left Blackwell ruined, but his thirst for power grows stronger every day. He's readying for a war against those who would resist his rule–namely Elizabeth and the witches, wizards, pirates, and healers she now calls her friends.
Having lost her stigma, a magical source of protection and healing, Elizabeth's strength is tested both physically and emotionally. War always means sacrifice, and as the lines between good and evil blur once more, Elizabeth must decide just how far she'll go to save those she loves.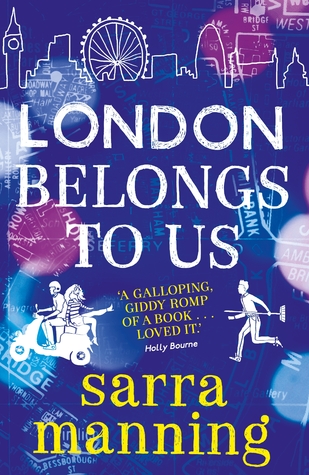 'London Belongs To Us' by Sarra Manning
Seventeen-year-old Sunny's always been a little bit of a pushover. But when she's sent a picture of her boyfriend kissing another girl, she knows she's got to act. What follows is a mad, twelve-hour dash around London – starting at 8pm in Crystal Palace (so far away from civilisation you can't even get the Tube there) then sweeping through Camden, Shoreditch, Soho, Kensington, Notting Hill . . . and ending up at 8am in Alexandra Palace.
Along the way Sunny meets a whole host of characters she never dreamed she'd have anything in common with – least of all the devilishly handsome (and somewhat vain) French 'twins' (they're really cousins) Jean Luc and Vic. But as this love-letter to London shows, a city is only a sum of its parts, and really it's the people living there who make up its life and soul. And, as Sunny discovers, everyone – from friends, apparent-enemies, famous bands and even rickshaw drivers – is willing to help a girl on a mission to get her romantic retribution.
'Love and Other Man-Made Disasters' by Nicola Doherty
Juno is scared of a lot of things. Climate change, urban foxes, zombies – the usual. So when she goes on a skiing holiday with her mum's adrenaline-mad new husband and his tearaway twins, she doesn't hold much hope of surviving. Then she meets Boy. Gruff, hairy and thrill-seeking, he's everything Juno doesn't like. Or is he? Juno's about to discover there's nothing more scary than falling in love.
'New Guard' (CHERUB #5) by Robert Muchamore
Ryan Sharma is a CHERUB agent. Working undercover, he can slip under adult radar and get information that sends criminals and terrorists to jail.
Now he's investigating a double kidnapping, working with mission controller James Adams.
In the mission to end all missions, Ryan and James must assemble a team of legendary CHERUB agents to find the hostages and bring them home…
'Nightwanderers' by C.J. Flood
It all started with a poo in a flowerbed.
Rosie and Titania are as close as sisters – closer, in fact. While Rosie is shy, red-faced and passive, Ti is big, tough and daring. They shouldn't be friends, but they are.
Creeping out at night, the girls love to secretly wander through their coastal town, exploring empty streets and sharing their frustrations about school and their different, but equally difficult, families.
But when Rosie betrays Ti, the two girls run in different directions – making decisions that could do irreparable damage to both of their lives. As Rosie confronts harsh truths, she must find a way back to Ti, and to herself.
Whenever I heard the word kindred I thought of me and Ti.
'Orangeboy' by Patrice Lawrence
Sixteen-year-old Marlon has promised his widowed mum that he'll be good, and nothing like his gang-leader brother Andre. It's easy when you keep yourself to yourself, listening to your dead dad's Earth, Wind and Fire albums and watching sci-fi. But everything changes when Marlon's first date with the beautiful Sonya ends in tragedy; he becomes a hunted man and he has no idea why. With his dad dead and his brother helpless, Marlon has little choice but to enter Andre's old world of guns, knives and drug runs in order to uncover the truth and protect those close to him. It's time to fight to be the last man standing.
'Six of Crows' (Greisha #1) by Leigh Bardugo (Paperback Release)
Ketterdam: a bustling hub of international trade where anything can be had for the right price—and no one knows that better than criminal prodigy Kaz Brekker. Kaz is offered a chance at a deadly heist that could make him rich beyond his wildest dreams. But he can't pull it off alone…
A convict with a thirst for revenge.
A sharpshooter who can't walk away from a wager.
A runaway with a privileged past.
A spy known as the Wraith.
A Heartrender using her magic to survive the slums.
A thief with a gift for unlikely escapes.
Six dangerous outcasts. One impossible heist. Kaz's crew is the only thing that might stand between the world and destruction—if they don't kill each other first.
'The Crooked Sixpence' (The Uncommoners #1) by Jennifer Bell
When Ivy Sparrow's grandmother Sylvie is rushed to hospital, Ivy and her annoying big brother Seb cannot imagine what lies in store for them. Returning to Sylvie's house, they find it has been ransacked by unknown intruders – then a mysterious feather scratches an ominous message onto the kitchen wall, and a very strange policeman is determined to apprehend them . . . with a toilet brush. Ivy and Seb make their escape – only to find themselves in a completely uncommon world.
The forces of evil are closing in fast, and if Ivy and Seb are ever to see their parents again, they must get to the bottom of a family secret as shameful as it is incredible . . . before it's too late.
'You Know Me Well' by Nina LaCour and David Levithan
Who knows you well? Your best friend? Your boyfriend or girlfriend? A stranger you meet on a crazy night? No one, really?
Mark and Kate have sat next to each other for an entire year, but have never spoken. For whatever reason, their paths outside of class have never crossed.
That is until Kate spots Mark miles away from home, out in the city for a wild, unexpected night. Kate is lost, having just run away from a chance to finally meet the girl she has been in love with from afar. Mark, meanwhile, is in love with his best friend Ryan, who may or may not feel the same way.
When Kate and Mark meet up, little do they know how important they will become to each other — and how, in a very short time, they will know each other better than any of the people who are supposed to know them more.
Which of these MANY releases are you looking forward to reading this week? Let us know @maximumpopbooks!
And if that somehow isn't enough to quench your thirst for YA, check out what the rest of 2016 has to offer on our complete list of releases.