Get excited! It's a new week, with fab new releases, and we're here to give you the low down on what's not-to-be-missed in the world of YA.
'My Favourite Manson Girl' by Alison Umminger
Anna has had a miserable year. Everything feels wrong with her life. And rather than stay and face the mess, she steals a credit card and books herself a seat on the first flight out of town to Los Angeles, to crash with her sister. But soon after she lands, cold reality soon dawns on her: Hollywood isn't the escape she needs. She is trapped in a town full of lost souls and wannabes, with no friends, no cash and no return ticket.
When she's offered a job researching the murderous Manson girls for a dubious film, she reluctantly accepts – she needs the money. But soon enough, among the fake smiles and glitter-fuelled parties, things turn from strange, to dark, to dangerous . . .
This is not going to be the summer Anna had in mind.
'Strange Star' by Emma Carroll
They were coming tonight to tell ghost stories. 'A tale to freeze the blood,' was the only rule. Switzerland, 1816. On a stormy summer night, Lord Byron and his guests are gathered round the fire.
Felix, their serving boy, can't wait to hear their creepy tales.
Yet real life is about to take a chilling turn – more chilling than any tale.
Frantic pounding at the front door reveals a stranger, a girl covered in the most unusual scars.
She claims to be looking for her sister, supposedly snatched from England by a woman called Mary Shelley.
Someone else has followed her here too, she says. And the girl is terrified.
'The Museum of Heartbreak' by Meg Leder
In this ode to all the things we gain and lose and gain again, seventeen-year-old Penelope Marx curates her own mini-museum to deal with all the heartbreaks of love, friendship, and growing up.
Welcome to the Museum of Heartbreak.
Well, actually, to Penelope Marx's personal museum. The one she creates after coming face to face with the devastating, lonely-making butt-kicking phenomenon known as heartbreak.
Heartbreak comes in all forms: There's Keats, the charmingly handsome new guy who couldn't be more perfect for her. There's possibly the worst person in the world, Cherisse, whose mission in life is to make Penelope miserable. There's Penelope's increasingly distant best friend Audrey. And then there's Penelope's other best friend, the equal-parts-infuriating-and-yet-somehow-amazing Eph, who has been all kinds of confusing lately.
But sometimes the biggest heartbreak of all is learning to let go of that wondrous time before you ever knew things could be broken.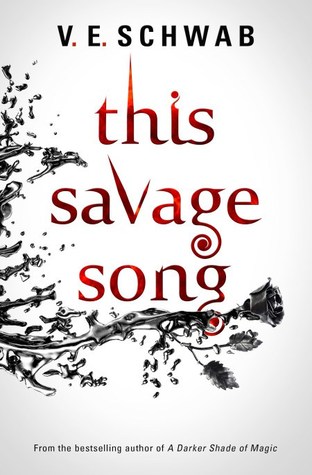 'This Savage Song' by V. E. Schwab
There's no such thing as safe in a city at war, a city overrun with monsters. In this dark urban fantasy from author Victoria Schwab, a young woman and a young man must choose whether to become heroes or villains—and friends or enemies—with the future of their home at stake. The first of two books.
Kate Harker and August Flynn are the heirs to a divided city—a city where the violence has begun to breed actual monsters. All Kate wants is to be as ruthless as her father, who lets the monsters roam free and makes the humans pay for his protection. All August wants is to be human, as good-hearted as his own father, to play a bigger role in protecting the innocent—but he's one of the monsters. One who can steal a soul with a simple strain of music. When the chance arises to keep an eye on Kate, who's just been kicked out of her sixth boarding school and returned home, August jumps at it. But Kate discovers August's secret, and after a failed assassination attempt the pair must flee for their lives.
'Notes on Being Teenage' by Rosalind Jana
How would you describe yourself? Do you like to stand out, or fit in? Are you an Instagram junkie, or is Snapchat more your thing? Are you watching Zoella on YouTube, or reading Rookie on your phone? We're all different, and no-one's teenage years are the same. But we do all have one thing in common – being a teenager is about discovering who we are, and who we want to be.
It can be tricky, building and forming your own identity and sense of self, and sometimes, advice from someone who has been there and done it in the not-too-distant past can come in useful. Enter Rosalind Jana, who's crammed more into her 20-odd years than most (including winning the Vogue Talent Contest for Young Writers AND 'Well Dressed' at the Observer Ethical Awards, but don't tell her we told you that…). Notes on Being Teenage covers all aspects of teenhood, from the serious (mental health issues, bullying, staying safe online), to the slightly-less-so (dating, style, fashion, starting a blog) and everything in between. Rooted in her own experiences as a blogger, part-time model and eco-fashion-expert, but also as a teen who struggled with scoliosis, bullying and her dad's depression, Rosalind is well-placed to offer advice and guidance to anyone navigating their teenage years.
'With Malice' by Eileen Cook
Wish you weren't here…
When Jill wakes up in a hospital bed with her leg in a cast, the last six weeks of her life are a complete blank. All she has been told is that she was involved in a fatal accident while on a school trip in Italy and had to be jetted home to receive intensive care. Care that involves a lawyer. And a press team. Because maybe the accident…. wasn't just an accident.
With no memory of what happened or what she did, can Jill prove her innocence? And can she really be sure that she isn't the one to blame?
'The Boy Most Likely To' by Huntley Fitzpatrick
Tim Mason was The Boy Most Likely To find the drinks cabinet blindfolded, need a liver transplant, and drive his car into a house.
Alice Garrett was The Girl Most Likely To . . . well, not date her little brother's baggage-burdened best friend, for starters.
For Tim, it wouldn't be smart to fall for Alice. For Alice, nothing could be scarier than falling for Tim. But Tim has never been known for making the smart choice, and Alice is starting to wonder if the "smart" choice is always the right one. When these two crash into each other, they crash hard. . .
Which of this week's releases are you looking forward to reading? Let us know @maximumpopbooks!
And if that wasn't enough to quench your thirst for YA, check out what the rest of 2016 has to offer on our complete list of releases.